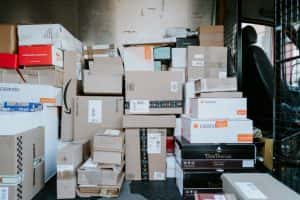 There are many reasons why you may need to hire a van, and the majority involve the transportation of a number of large goods. Whether you are transporting office furniture or upping sticks and moving home, we think you will benefit from our tips on the most efficient ways to load your van. Save space, time and fuel with the help of our simple guide.
Select your van size
First of all, you'll need to decide on the size of your van. Consider your load carefully. It may be best to go up a size if you are unsure of the exact number of items you will be transporting, as this will be a good starting point for reducing your journey time. Partnering this with the ability to save space will provide you with a smooth, hassle-free journey.
Organising your load appropriately will not only allow you to minimise your trips, but it will also let you drive with confidence in the security of your goods and safety of your handling. Did you know, whilst it may be seen frequently, driving with items hanging out of the rear end of your vehicle is actually illegal? If you find yourself reaching a point like this, you should unload excess items from your vehicle until the doors close securely. This will allow you to avoid receiving a charge for dangerous driving.
Loading your van, saving your space
Now, let's get into the ways of saving space whilst loading your van. Gather your goods in one location, allowing you to assess them easily. You may find that you are able to separate these into clear categories, such as flat, fragile, and bulky items. There are safety methods that can be applied whilst loading, as well as practical methods to provide you with a compact, Tetris-style loaded van.
Large items
Once you have assessed your items, bring those of a larger size to the van and begin loading them. Be sure to store them the right up against the cabin of the van – this will ensure that the weight is evenly distributed whilst on the road. There may be ways in which these items can already slot together, such as fitting a chest of drawers between the legs of your table. For items that are closely compacted, use padding to prevent scratching during the journey.
Narrow items
Once the larger items are loaded, identify those that are long or narrow, such as mirrors, folded down tables, sofa cushions or mattresses. Load these on their sides against the side walls of your van's loading space, preventing them from taking up required floor space.
Soft items
When if comes to rugs, duvets or curtains, instead of folding them up, see if there are other items which could be wrapped within them, saving space by packing two things as one. Domestic items such as curtain poles, wardrobe rails, or even wellington boots could be stored here.
Boxes
When it comes to loading your boxes, be sure to utilise any spare space, such as the spaces beneath chairs or tables. With no rear windscreen, you can also afford to pile the boxes up to the ceiling of the van. This space is often overlooked as it can be difficult to reach but it can mean the difference between a single trip and multiple ones.
The space that is left can be perfect for those fragile items. Returning back to our game of Tetris, load these in tight spaces left between items, ensuring that they won't be rolling loose in the rear of the van whilst on the road. Also – remember, the passenger footwells in the cabin can be ideal for those fragile items that will have pride of place in your new home.
At Pace Van Hire, our knowledge of van hire covers everything from loading to driving. For any questions, get in touch with our team who will be delighted to assist. Give us a call on 020 7277 9853 or email us at info@pacevanhireuk.com today.