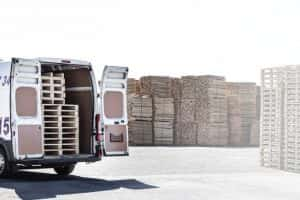 If you are the new owner of a van or have rented one for a house move or furniture collection, you will need to take a few things into consideration before heading to the road to collect your load as there are health and safety regulations which you must abide to, as well as staying within the means of the law. We have set out the things to consider before you start your journey.
Van size
Let's face it, we've all left IKEA at some point with wardrobe in hand and arrived back at your vehicle only to realise that it won't fit. When it comes to your van, the likelihood that you will be able to store more inside will often lead you to the belief that there are no limits. However, if you find that your van doors won't close fully or that your only remaining option is to leave part of the object hanging out of the back of the vehicle, this does not mean that it is safe to do so. Although it is commonly seen across cars or vans who secure a rope or tie around the object and doors, this still remains illegal. You must leave anything that cannot fit back at the store and make a separate journey to collect it afterwards. If caught on the road, you will be charged for committing to dangerous driving and it is important to note that if renting a van, this charge will still impact you as the named driver at the time of the offence and you may also be charged an admin fee by your rental company.
Weight limit
Despite the space available within your van, there will be a weight limit which you must abide to. This will be found in your vehicle's handbook. If you are unsure of the weight of your vehicle, you can use the GOV's weighbridge checker here: https://www.gov.uk/find-weighbridge. You will also need to take into consideration the weight of your vehicle once your items are stored inside, as well as passengers. You will have to observe weight limit signs once on the road and may have to use alternate routes if your weight is over the listed amount when approaching a bridge or longstanding road. Failure to follow the signs could lead to damage to the road and or our vehicle and as before, the charges will be the responsibility of the named driver at the time.
Storage safety
When it comes to safely loading your van, you will want to protect yourself as well as the contents. You will want to focus on what you can lift safely rather than what you can in total. If your load is heavy, always ask for assistance when lifting to avoid unnecessary injury. Start storing the van with the heavier items at the bottom. You may wish to secure these together with a tie to avoid them from knocking into each other whilst on the road, or to wrap them up firmly with cloths or bubble wrap. Lighter items should be stored at the top but secured down by a tie to avoid excessive movement or damage. You should also carry any valuables in the cab at the front of the van to be sure that they remain safe.
Here at Pace Van Hire we can supply you with a van at a fixed price with no deposit for all of your furniture transportation needs. If you are interested in hiring a van and would like to know about the ways in which you can load it safely, get in touch with our expert team by calling 020 7277 9853 or emailing info@pacevanhire.com where we will be happy to advise and assist.