No deposit,
no credit checks,
no hassle
– just convenient and affordable van hire.
Your choice of vans for hire

in the Croydon area
£0 DEPOSIT OPTIONS AVAILABLE
Croydon
Euro 6 (ULEZ Compliant) – £200 deposit
Euro 6 – £10 per day – no deposit
New Cross
Euro 6 (ULEZ Compliant) – £200 deposit
Euro 6 – £10 per day – no deposit
Eltham
Euro 6 (ULEZ Compliant) – £200 deposit
Euro 6 – £10 per day – no deposit
Rate 4.8 based on 450+ reviews on Google and Facebook.
Harriet Vickers
Super friendly, easy and efficient van hire, at a really good price. Got us out of a last minute pickle when ZipVan let us down!! Would definitely recommend.
Elinor Whittle
Really friendly customer service and a great price. The van was in good condition, good to drive and there was minimal faff in the hiring process. Would 100% recommend and use again!
Shane Stagg
Brilliant bunch of guys! Fast clean and reliable. Great value for money! Great service! Would highly recommend, they really do go the extra mile to satisfy the customers!
VAN HIRE

IN CROYDON
Are you looking for cheap van hire in Croydon? You can choose from a wide range of vans for hire at affordable prices and with sensible rental periods. Hiring one of our vans gives you more control – choose any day of the week to pick up your van, return it at a time that suits you because of our 24/7 drop off policy, and benefit from useful rental options such as one-day weekend hire.
We're a successful third-generation family business and, after starting out in New Cross, we've brought our experience in van hire to the Croydon area. Our team knows how to get you behind the wheel as quickly as possible. No deposit, no credit checks, no hassle – just convenient self-drive van hire based in South Croydon.
Why choose us for

cheap van

hire in Croydon?
No Deposit Options
We care about you're your cashflow. Just like when we were Ace Rent a Van, we won't require a deposit unless you opt for our deposit option saving yourself £10/day!
No credit checks
We don't see the point in unnecessary paperwork. You can hire a van from us without the hassle because we make sure that the process is quick, simple, and straightforward.
Fixed prices
You won't be faced with any surprise seasonal or peak charges. All our prices stay the same so that you know exactly how much you'll pay when hiring one of our vans.
Loyalty scheme
You'll earn credit every time you hire one of our vans. After your fifth rental you can redeem your credit against your next van and, depending on the amount, it may cover the cost completely.
One-day weekend hire
We open every day so that you can choose a booking that suits you. If you don't need a van for an entire weekend, take advantage of our one-day weekend hire so that you aren't paying more than you need to.
Low insurance excess
We're all about being cost efficient, from hire through to insurance. We will protect you from high excess costs. Excess is set at £1,500 and we will ensure you are charged as little as possible with our large network of local repairers. You're sure to get our trade prices for repair!
24/7 drop off
You can return your van at a time that suits you. There's no need to stick to our opening hours. We'll let you know how this process works when you come in to collect your van.
Excellent availability
With an ever-growing fleet, you needn't worry when it comes to van availability. With the largest independent retail fleet in South London we will have you covered even last minute.
Van hire
for moving home in Croydon
If you need to hire a van in Croydon, Pace Van Hire is the company you are looking for. We have provided vans for hire in Croydon for decades, meaning we have the experience to sort you out with whatever you need. Our micro vans and small vans are ideal for bags or boxes, while our range of wheelbase vans provide variety so you can hire the right van for your situation. If you need a removal van, our Luton vans are perfect for transporting larger items.
Van hire accessories

– protect your payload
Providing exactly what our customers need matters to us. Our range of accessories ensure that the van you hire is not missing any vital components. We have durable packing boxes, protective packing blankets, and bubble wrap on offer so that your payload will be transported safely and effectively. Our hardwearing ratchet straps are designed to withstand up to 200kg of cargo, making your payload secure when it is in the van. Moving heavy payloads can be tough, but our working gloves are perfect for avoiding friction and discomfort. The sack trolleys that we have available to hire make transporting boxes to and from your van simple.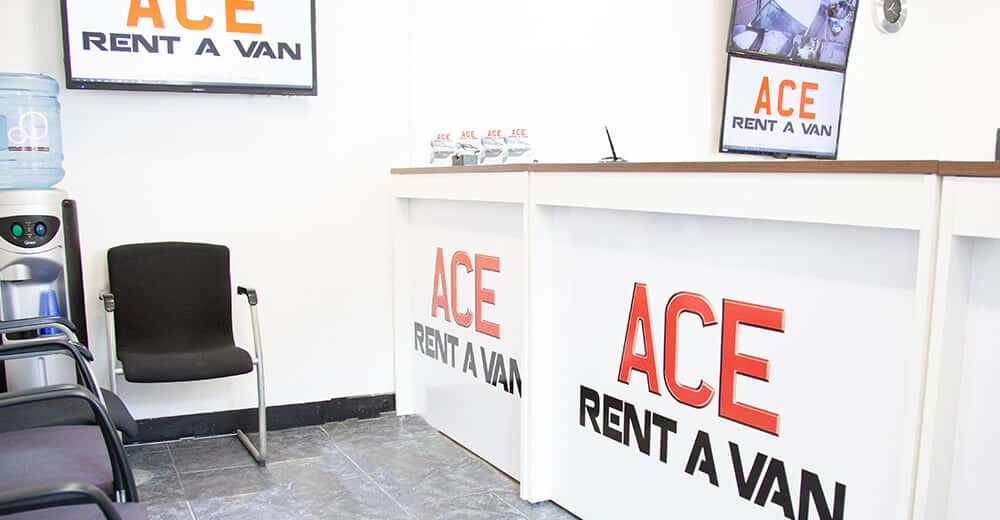 Pace Van Hire –
our history
We might have changed our name from Ace Rent a Van, but our principles are stronger than ever. Our family-oriented business has provided vans for hire in Croydon since the 1950s, and we want to continue doing what we love for as long as possible. In 2018, we expanded our business and opened a branch in Croydon. This allowed us to build relationships with even more customers as well as helping many people who needed to hire vans in Croydon. If you need to hire a van in Croydon, you know where to find us.
What do you need

in order to hire a van
from us in South Croydon?
A valid UK or EU driving licence
It's obvious but it's still easy to forget. The licence needs to have been valid for at least two years and if you have an EU licence or a UK paper licence rather than a photocard you'll need to show additional photo ID.
Proof of current UK address
This doesn't have to match your licence, it just needs to be something official like a recent utility bill, bank statement, or a letter from HMRC. It can be physical or digital and it's best if it's from the last three months. If you are an EU licence holder, you'll need to be a UK resident.
A licence
check code
If you have a UK licence you'll need to generate a licence check code so that we can view your driving record. The gov.uk site lets you do this using your National Insurance number, licence number, and the postcode on your licence.
A debit or
credit card
We don't accept cash so you'll need to have a card ready when we call you back to confirm your booking. That's the point where we'll be asking for payment so it's helpful to have your card details to hand.
Visit us to book your van hire

in Croydon
You'll find us at 11 Epsom Road, Croydon, CR0 4NB
How are you planning to collect your van? Here's some local transport information to help you decide which option makes the most sense for you:
How to find our Croydon branch
There are a couple of train stations within walking distance that are reachable using London Overground or Southern trains. West Croydon station is also served by London Trams.
Waddon Station – 0.4 miles/8-minute walk
West Croydon Station – 0.8 miles/17-minute walk
Our branch is a two-minute walk from Wandle Park tram stop.
You have plenty of options if you're planning to travel in on the bus. Multiple buses stop right near us.
If public transport isn't an option, we have free and paid street parking options available nearby. Please speak to one of our agents for more information.
PARKING OPTIONS AT OUR CROYDON BRANCH
We offer limited free parking on-site exclusively for our customers. To check availability, call 020 7277 9853. Additionally, many nearby roads provide extra free parking options. If needed, give us a call and we will do our utmost to pick you up from one of the locations listed below:
Helpful information


if you're going to hire a van in the Croydon area

Hoping to take some rubbish to the tip? Our closest site here in Croydon is Factory Lane. Just make sure that you check their rules for van drivers before heading out so that you don't get turned away.

Contact
Pace Van Hire
Give us a call on 0207 277 9853 with any questions and we'll help you hire a van that's right for you.
Or if you'd prefer to just get started, you can book online and we'll give you a call back to confirm.