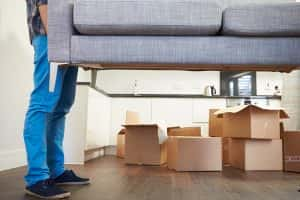 Moving house is an exciting and stressful time. New beginnings can be fun and exhilarating, but they can also cause anxiety when you realise all the things you need to do before the fun of settling into your new place can begin. One of the biggest things to consider when moving home is how you are going to do it. The two options are hiring a removals company or doing it yourself with a hired van (and maybe a friend to help!). We explore the pros and cons of both to help you decide on the best route for you.
Cost
While removals companies are a great option, letting you put your feet up while they do all the heavy lifting, they can also be very expensive. If cost is a big consideration, then this may not be the right choice for you. While you will still have to factor in the cost of hiring a van, it is a fraction of what you would have to pay for the time it will take a team to come in and do it all for you.
With so many different van options on the market there will be one that is best suited for the volume of things that you need to transport and the distance you need to travel. A good hire company can advise you on the best van to do the job so that you don't have to make multiple trips unnecessarily.
Time
Doing it yourself will mean that you need to spend the time to source packaging materials and pack everything away carefully, but it need not take that long. If you start by focusing on the things that you don't use on a daily basis it can be a quicker process than you feared, getting it all packed into suitable containers for moving over time. Leave the kitchen and bedrooms until the end and set aside a day without distractions to get it done.
Other considerations
There are a few things to consider when doing it yourself which a van hire company can assist with:
Insurance – Make sure that insurance cover will also include damage, theft or loss. In fact, if you choose to use a removals company check that they offer this too.
Breakdown cover – If it is not already included in the hire cost then it is worth asking for, for greater peace of mind at a busy and stressful time.
Fuel – Petrol or diesel? The latter will be more cost efficient for longer distances but make sure that you know which you end up with, particularly if it is different to your own vehicle.
Parking – If you have parking restrictions at either end, be sure to factor this in when choosing your van size.
Licence – For anything up to 3,500kg you can drive on your regular licence. Anything greater than this and you may need a specialised licence.
Mileage – Check what is included in the hire price. For shorter distances it may not matter but if you are travelling further you may wish to have unlimited mileage as part of your package.
Packing – Not sure how to pack your van? Check our recent article on this for help.
Moving home and not sure what the costs of a van hire may be? Get in touch with our Pace Van Hire team! With no deposit and low excess options we are sure we can find a good deal for you. Call us on 020 7277 9853 and we'll get you into your new home quickly and cost effectively.