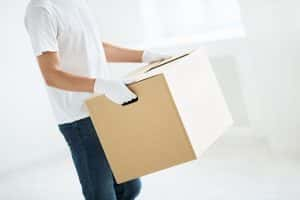 Moving home or office – or any move, in fact – can be a stressful time. It can get even more stressful when you have decided to do it yourself if you are not sure of the best way to go about it. We are here to take away a lot of that stress and anxiety and we do that by helping you pack your van properly. With years of experience helping clients move, and even from our own moves over the years, we have put together a comprehensive, at-a-glance guide to help you do it right and avoid mistakes that could result in broken or damaged belongings.
Get your padding ready
There will be items that are more susceptible to damage or breakage. These include things such as glass, mirrors, wooden furniture, or any older or antique items. Depending on what it is and how fragile it is you can protect it with bubble wrap, thick padding, or cover it with a tarpaulin. Get those items prepared first before you start loading your van.
Disassemble what can be disassembled
It will be easier to pack and move large items if they can be taken apart – such as beds, bookcases, or larger tables. Be sure to keep all the fastenings, small parts and any special tools necessary in labelled bags. We would recommend that you only disassemble things that you have either assembled previously yourself or for which you have detailed instructions. The last thing you want is to find you can't put something together again!
Find the heaviest items
Those would be items such as white goods – fridges, freezers, washing machines, dryers, ovens, dishwashers, etc. – as well as furniture items such as wardrobes. What you want to do is to push them to the back of the van, closest to the cab, and secure them firmly in place. They should be upright and well balanced along that cab wall. You want to avoid any of those items coming loose and moving around the van, crushing other things as they do so.
Long items
Next, find those items that are longer than others. Examples include mattresses, tabletops or headboards. Place those along the side walls of the van but keep them upright, making sure you have left plenty of space in the middle for everything else.
Boxes
Start with the heavy boxes. Place them in the middle of the van either on the floor or under any tables or other cavities around the van. They should be secured to stop them from moving around and crushing other items during transit. Once you have the heavy boxes in place start to add the lighter boxes, stacking them up around the van. Even though they are lighter and less likely to cause damage if they move, you still want to secure them and pack them in tightly so that nothing arrives broken or crushed at the other end.
Fragile items and clothes
Place as many clothes and shoes in suitcases to make it easier to pack (and unpack later). If you have space in the van pop the suitcases in there. Otherwise you can carry them in the car with you. For fragile items, the safest way to transport them is by keeping them with you. If the van is your only transport method either secure them tightly in any remaining cavities or take them into the cab with you.
Looking to hire a van with a fixed price and no deposit for your move? Look no further than Pace Van Hire! Call us on 020 7277 9853 for help finding the right one for you and your move.