Designed from scratch to meet the needs of modern road users, choose the Volkswagen Crafter as your next vehicle.
The 2017 Volkswagen Crafter has quickly shot to the top of many experts' "must buy" lists. It has quickly built a reputation for it's easy handing, advanced technology, excellent storage capacity and payload, and for having what is arguably the best cab environment of any van presently on the market. With its AdBlue tank it can even comply with Euro 6 standards, meaning you can avoid charges entering London's ULEZ. These qualities have made it an extremely popular choice for customers to rent and buy from us. The latest generation of Volkswagen Crafters have a sharp look and plenty of new technology to satisfy all of your driving needs. This entirely new design has allowed the team at Volkswagen to purpose build this van to the needs of its users – everything from the basic structure to the engine and the additional amenities is brand new. This makes it one of the most intelligently designed and versatile vehicles on the market at the moment. .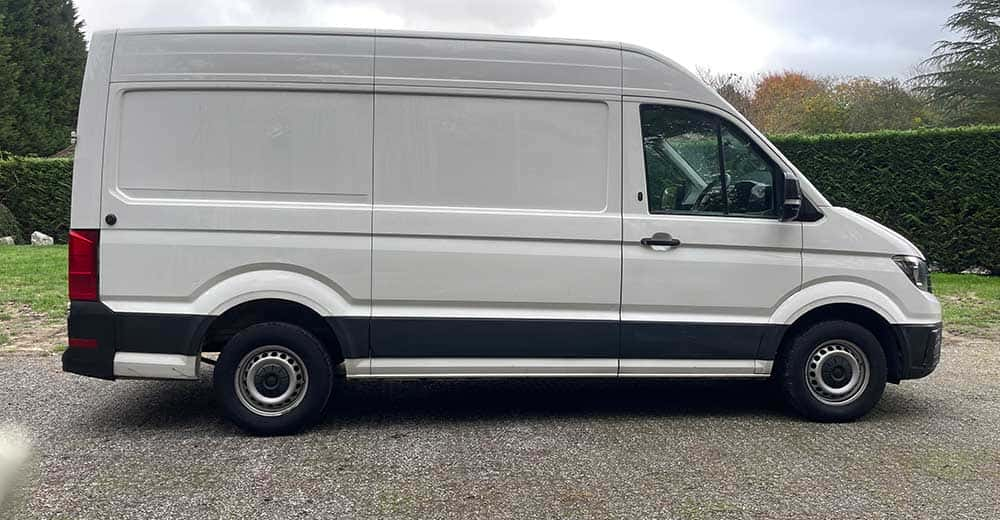 Volkswagen Crafter

medium wheelbase
The medium wheelbase Volkswagen Crafter is the equivalent length of an L3 transit with around 3 metres of length in the rear storage unit. It is easily large enough to carry 8×4 boards with room to spare, making it a compact but highly practical choice. The medium wheelbase is available with both a low and high roof so you can have additional space if it will suit your needs.
VW Crafter

long wheelbase
If you're looking for a little more space, then the long wheelbase version of the Volkswagen Crafter is the perfect choice. With a 4-metre-long storage space in the rear of the vehicle it is perfect for when you know you'll need to haul larger equipment or longer pieces of material. The long wheelbase Crafter is available with a high roof and a super-high roof, giving you even more space if you need it.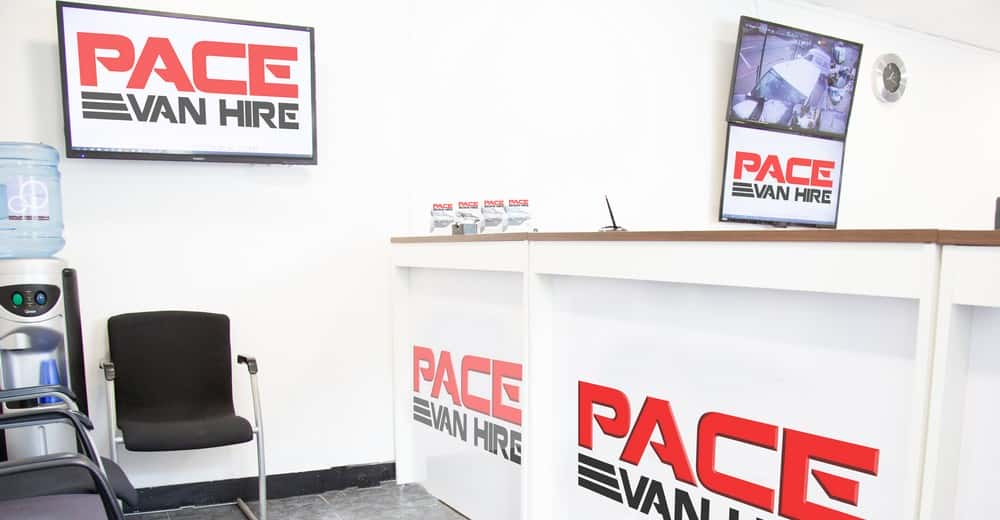 History of the

VW Crafter
The Volkswagen Crafter started life in 2006 when it replaced the Volkswagen Lasten-Transporter. It was a joint project with Mercedes and shared a lot of similarities with the Mark 2 Sprinter. It proved extremely popular with customers, selling more units than the previous generation in half the time. With the Crafter, Volkswagen had clearly identified how to create a comfortable and versatile working vehicle. As a van with plenty of options for size and space, the Crafter had a universal appeal to a great many different users. With this generation, Volkswagen recognised the source of the Crafter's appeal and took a new approach. They started from scratch, went back to basics, and made a significant effort to understand how operators actually used their vehicles. From here they used this information to specifically tailor the new Crafter to meet those needs. In addition to the modern amenities, there is a heavy focus on utility. The highly ergonomic cab, the quieter engine, and the long-distance comfort show the care that went into its design and manufacture.
What
our customers

have to say
Our customers have been delighted with the experiences they've had working with Pace Van Hire and are consistently impressed with the qualities of our vehicles and service.
Rate 4.8 based on 450+ reviews on Google and Facebook.
Harriet Vickers
Super friendly, easy and efficient van hire, at a really good price. Got us out of a last minute pickle when ZipVan let us down!! Would definitely recommend.
Elinor Whittle
Really friendly customer service and a great price. The van was in good condition, good to drive and there was minimal faff in the hiring process. Would 100% recommend and use again!
Shane Stagg
Brilliant bunch of guys! Fast clean and reliable. Great value for money! Great service! Would highly recommend, they really do go the extra mile to satisfy the customers!
Volkswagen Crafter engines and driving experience
The Volkswagen Crafter has quickly become an industry favourite for the comfortable drive it offers. It has been remarked that the cab is perhaps the most technologically advanced and intelligently designed on the market right now. It offers plenty of space, is made of quality materials, and has plenty of modern amenities to keep you comfy. These include not only air-conditioning and heated seats, but also a heated windscreen and a heated steering wheel for those cold winter mornings. The detailed, user-focused design process has made some amazing improvements to previous models as well as new innovations. The Crafter is exceptionally easy to drive, handling tight urban driving as well as taking on long distances with no problems. Its quiet engine makes it further suitable for navigating denser areas and improves the overall experience. The gearbox is precise and light enough that it feels more like a car than a van and it's electro-mechanical steering is accurate and is a great boost to the van's agility. Volkswagen have made a particular effort to understand the needs of its users and it shows. The suspension is strong enough that it handles well on uneven and bumpy roads, there's no risk to cargo in the back when loaded but it also doesn't 'bounce' like some models do when unloaded either. The power, performance, and handling of the Volkswagen Crafter make it an exceptionally pleasant van to drive and an excellent choice for anyone who spends time on the road.
Is the Volkswagen Crafter the right van for me?
The latest generation Volkswagen Crafter has been designed from the wheels up to specifically meet the needs of van users just like you. It combines the functional benefits of a powerful engine and good handling with excellent storage space and modern comforts to ensure that you're getting the perfect van to suit your requirements. The Crafter has taken Britain's roads by storm. It's amazing payload capacity, paired with a practical and compact design makes it extremely versatile and well-suited to travel all over the country, from tight country lanes and backroads to long journeys on the motorway.
Why purchase a Volkswagen Crafter through Pace Van Hire?
When you buy or rent a van with Pace Van Hire, you're working with a company that's been serving South London for decades. We've been working with vehicles at our yard on Pomeroy Street in New Cross since the 1950s and in that time have built up an amazing reputation as a staple of the community for our excellent service and the high standard of our vehicles. Our team takes great care to maintain our vans, servicing them every 10,000 miles, so that you're always driving away in a reliable, high-quality vehicle. We take great care of our staff and customers and our years in the industry have given us the expertise and know-how to find the perfect van for you.