Under new management but with the same British craftsmanship, the Vauxhall Vivaro has the space and power you need.
The Vauxhall Vivaro is a mid-sized van with highly practical features and excellent fuel economy. 2019 saw a brand-new model released under the guidance of Vauxhall's new owners the PSA Group. It is more compact than the older models but with a greater storage capacity. The new platform that underpins the vehicle is the most modern on the market, giving it excellent handling that is more like a passenger car than a van. This new van is still stylish, functional, and suitable for all manner of work. For a used, but well-maintained vehicle, the Vauxhall Vivaro is a perfectly spacious, reliable, and versatile choice for anyone on the move. Pace Van Hire have a range of these great vans in our fleet and are happy to discuss selling them on to interested buyers.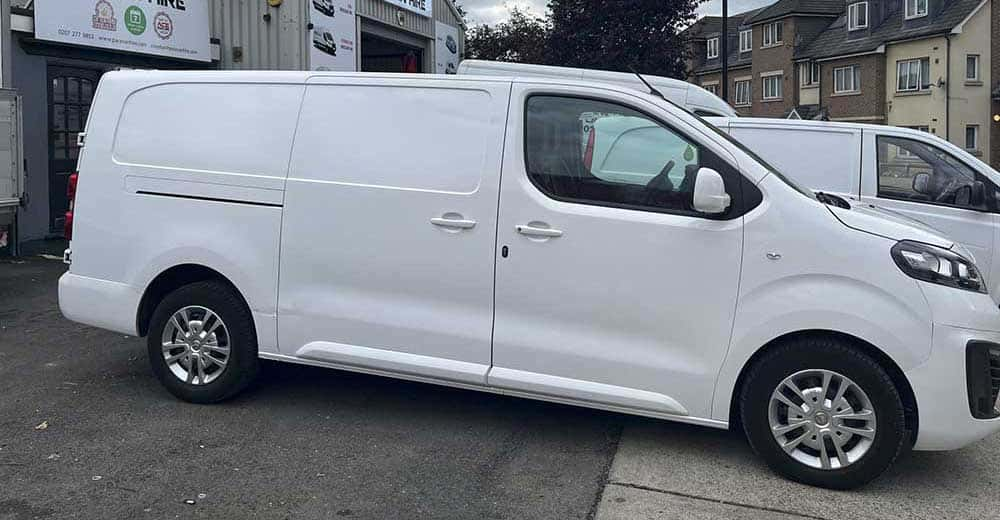 A highly practical choice to get you on the move, the Vauxhall Vivaro L2 maintains the same wheelbase as the original model as the additional length is behind the rear axle. This means you won't lose any of that excellent handling and body roll protection. It is also a little shorter than previous models, so you'll never struggle getting into car parks or other height restricted areas. Despite its compact size it maintains a similar cubic capacity to the older model and a payload of 1415 kilograms, so you'll still have plenty of room for all of your tools and equipment. The L2 accounts for the majority of our Vivaro fleet here at Pace Van Hire and, like all of our vehicles, is regularly maintained to ensure it is kept in top condition.
History of the

Vauxhall Vivaro
The Vauxhall Vivaro has a storied history. Originally launched in Europe in 2001 under the name Opel Vivaro, it only acquired the Vauxhall name when it arrived in the UK. Since then, it has had a few major facelifts but saw a major overhaul as its third generation launched in 2019. As Vauxhall was bought out by French automotive firm the PSA Group, the new Vivaro now shares a lot of its DNA with a new family of vans such as the Peugeot Expert, Toyota Proace, and the Citroen Dispatch. Despite the ownership of the company, the Vivaro is still produced in the Vauxhall factory in Luton, ensuring British automotive jobs are protected. It's the perfect choice if you're determined to shop local and support British industry.
What
our customers

have to say
At Pace Van Hire we go above and beyond to ensure all of our customers receive the best possible service and the vehicle that's right for them. See for yourself the amazing experiences they've had.
Rate 4.8 based on 450+ reviews on Google and Facebook.
Harriet Vickers
Super friendly, easy and efficient van hire, at a really good price. Got us out of a last minute pickle when ZipVan let us down!! Would definitely recommend.
Elinor Whittle
Really friendly customer service and a great price. The van was in good condition, good to drive and there was minimal faff in the hiring process. Would 100% recommend and use again!
Shane Stagg
Brilliant bunch of guys! Fast clean and reliable. Great value for money! Great service! Would highly recommend, they really do go the extra mile to satisfy the customers!
Engine and driving experience
The Vauxhall Vivaro L2 comes with two different diesel engine options. These are a 1.5 Turbo D with either 100PS or 120PS outputs and the 2.0 Turbo D with 120PS, 150PS, and 180PS outputs. All of our L2s are front wheel drive and have a 6-speed manual gearbox for precise handling. Every model has a 70-litre fuel tank and a 22.5-litre AdBlue tank to keep compliant with Euro 6 environmental standards. The Vivaro L2 is known for its tidy handling and comfortable drive. This makes it a highly practical choice for anyone planning on spending a long time on the road and its hydraulically-assisted steering make navigating side streets a dream. This powerful but nimble van is well-equipped to take you anywhere.
Is the Vauxhall Vivaro the right van for me?
The Vauxhall Vivaro is a highly versatile choice. It has the power output and fuel tank to see you on long journeys on the motorway, but also the precise handling needed to wriggle through narrower suburban and country roads. Compact but still with great storage space, you'll be able to fit in even the narrowest spaces to get to your jobs but will be able to carry everything you need. In addition to practicality and power it is also fitted out with plenty of modern features. The cab boasts electric wing mirrors, plenty of storage, and a stylish infotainment system so you can drive in comfort. The British-made Vauxhall Vivaro is a smooth ride that packs plenty of power for its size, a worthy investment that easily stands up against the other heavy hitters in this generation of vans.
Why purchase a Vauxhall Vivaro through Pace Van Hire?
When you purchase a van through Pace Van Hire you're choosing a family-run business that has been working with vehicles in South London since the 1950s. With decades spent on our site at Pomeroy Street in New Cross we've built up a wealth of experience and an amazing professional team. That's to say nothing of our glowing reputation in the area for the quality of our vehicles and our impeccable customer service. We take excellent care of all of our vehicles. Our in-house team of technicians professionally inspects and maintains each one every 10,000 miles to check for any wear and work that needs to be down. This means that, while you are renting or buying a used van, you are also buying a well maintained and looked-after vehicle from a team that you can trust. Get in touch with Pace Van Hire to learn more about purchasing your Vauxhall Vivaro and become part of our family.