The Ford Transit is the UK's most popular panel van, and it's not hard to see why. Browse our range and find the right fit for you.
The quintessential panel van, the Ford Transit has been on the market for decades and has earned a reputation for its versatility and reliability. Perhaps the most common van spotted on the UK's roads, the Ford Transit is highly popular to rent and own for its many practical benefits. They have enough space to ensure you can carry plenty of cargo, but their shape and size make them easy to drive, park, and manoeuvre. Robust and highly functional, the transit van is popular for a reason.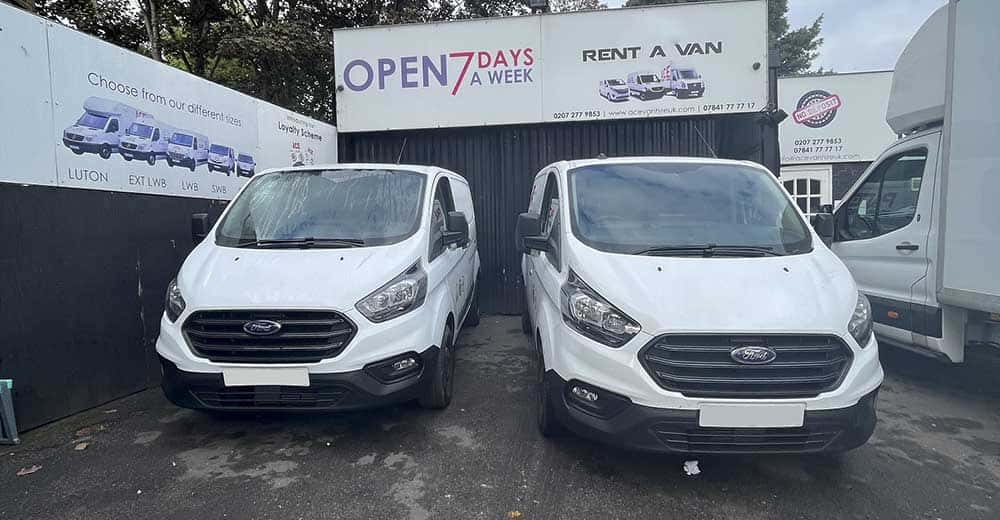 The Ford Transit Custom is a distinctive and highly versatile vehicle. The Transit Custom was introduced in 2013 and was an immediate success thanks to its stylish appearance, excellent handling, and reasonable price. At Pace Van Hire, the Transit Custom is our most hired vehicle – a testament to its popularity. We offer a range of sizes to accommodate a wide range of payloads, ensuring that your van will always be ideal for the job. As standard the Ford Transit can take 8×4 boards and the length and height increase from there. Our range also allows you to be selective regarding fuel economy and power so you ensure your van will not only suit your needs but also run efficiently. Another bonus is that the Ford Transit Custom is ULEZ compliant, so you can avoid the £12.50 per day charge to drive into London. With excellent handling, good fuel economy, and a versatile storge space, the Ford Transit Custom is a highly desirable van for our customers and it's not hard to see why.
The Ford Transit 350 L3 is a very popular make of transit van. With an interior rear length of 3 metres and a gross weight of 3500 kilograms, it is extremely versatile and can haul a decent payload while still being manoeuvrable. This is a medium wheelbase van that is primarily available in a H3 high-top design. This gives you even more space to take advantage of. With plenty of storage space and the trademark transit handling and design, this van is a highly desirable choice.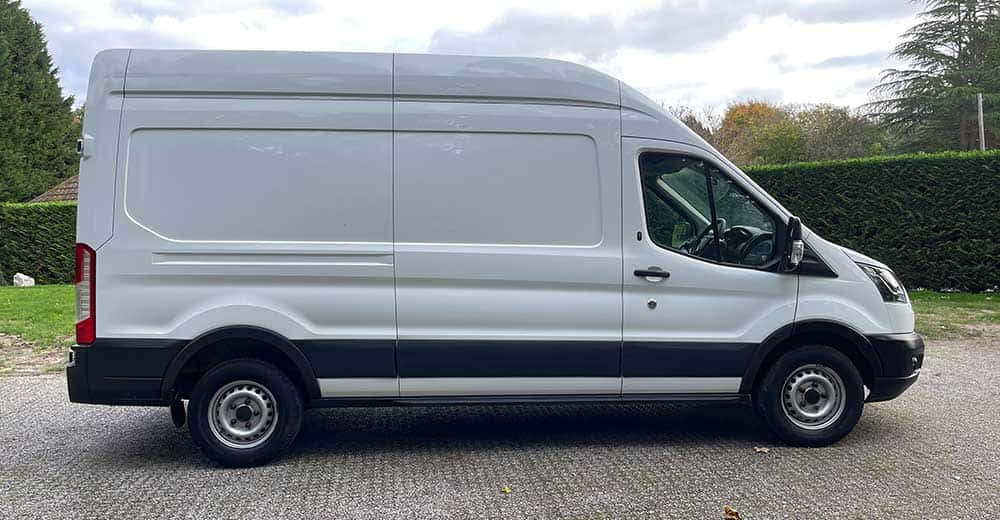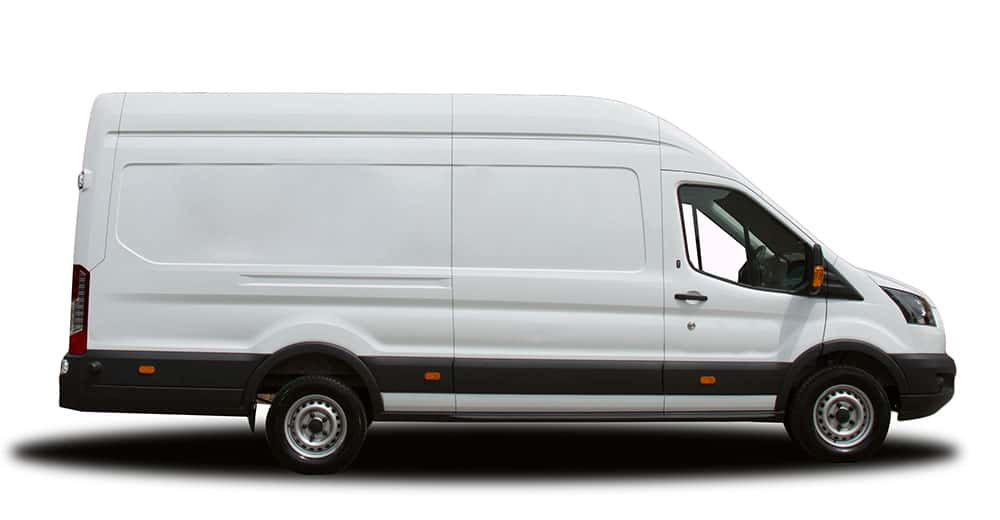 The largest of our typical panel vans, the Ford Transit 350 L4 gives you all of the benefits of one of the UK's most distinctive vehicles with additional storage space. The L4 has a gross weight of 3500 kilograms and an interior rear length of 4 metres giving you plenty of capacity, so that you'll always be able to transport tools and materials for your jobs. What's more, the majority of our models are of the H3 high-top design that gives you even more space to work with. This highly reliable and versatile van is the perfect choice for larger payloads.
Luton vans have a different design that distinguish them from the Transit 350. They still have the Ford-produced cab and chassis but at the rear is a large cube-shaped storage unit which earns them the nickname 'box vans'. These vehicles offer an enormous amount of space making them very popular for jobs with large payloads such as a house move. This size makes them less desirable for tradesmen, who might find the Transit 350 L3 or L4 have a better size-to-payload ratio, but they have an extremely impressive storage space. Our Luton vans are available in a range of sizes with options for a flat bed, tipper, curtain side container, drop well body, or a tail lift. These do affect the gross weight of the vehicle but will give you the specific functionality you need to complete your job. When you purchase a Luton van from Pace Van Hire, you'll be able to find the perfect van that is tailored to your specific needs.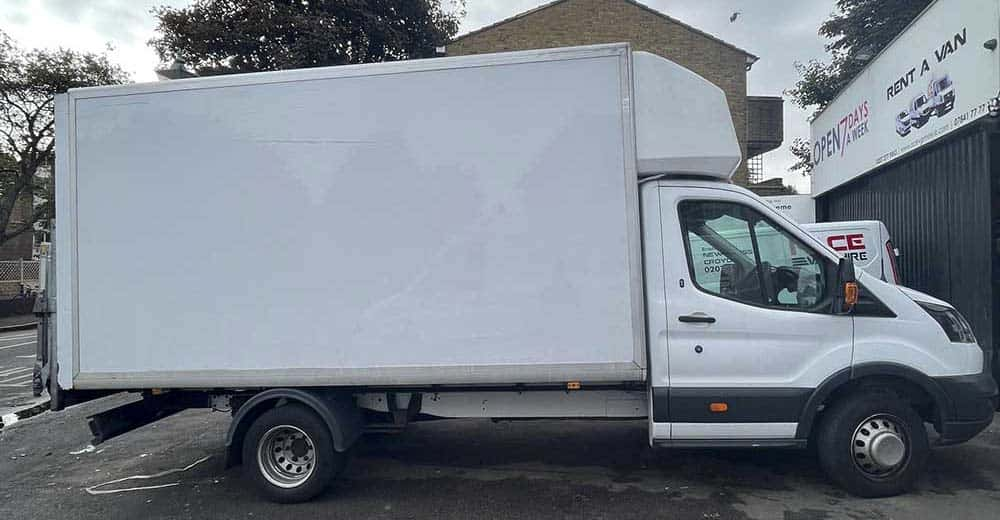 History of the

Ford Transit
First introduced in 1965, the Ford Transit's distinctive Americanised design and enormous storage capacity quickly made it extremely popular among UK motorists. With a huge range of different options for storage space and extra seating it quickly outperformed its competitors and transformed the British van market. Its design would remain unchanged until 1978 when it was given a significant update to improve the design, interior, and engine. As the years rolled by, more and more upgrades would be introduced to keep the Transit updated with the times. These included air-conditioning, central locking, and electric windows and mirrors. What didn't change was its distinctive design, great handling, and excellent storage capacity. In 2013, the most recent generation of Transits were introduced, including the Ford Transit Custom which boasts a sleek design, dependability, and modern functionality. It was also the first model to have a hybrid option on the market. Ford's commitment to continually upgrading and improving their range has ensured the Transit has retained its place on Britain's roads and in the hearts of many motorists.
What
our customers

have to say
Don't just take our word for it. Many of our customers have been kind enough to leave glowing testimonials of the service they've received from us at Pace Van Hire.
Rate 4.8 based on 450+ reviews on Google and Facebook.
Harriet Vickers
Super friendly, easy and efficient van hire, at a really good price. Got us out of a last minute pickle when ZipVan let us down!! Would definitely recommend.
Elinor Whittle
Really friendly customer service and a great price. The van was in good condition, good to drive and there was minimal faff in the hiring process. Would 100% recommend and use again!
Shane Stagg
Brilliant bunch of guys! Fast clean and reliable. Great value for money! Great service! Would highly recommend, they really do go the extra mile to satisfy the customers!
Ford Transit engines and driving experience
When it was introduced in 2013 the Ford Transit Custom originally boasted a powerful 2.2-litre TDCi turbodiesel 'Puma' engine with three different power outputs of 120hp / 310Nm, 125hp / 350Nm, and 155hp / 385Nm. Newer models are compliant with Euro 6 regulations and are powered by a 2.0-litre TDCi EcoBlue turbodiesel engineer, known as the 'Panther'. Despite a small reduction in size, these 2.0-litre engines are powerful, developing torque much earlier which makes for an energetic and smooth ride. They offer an impressive increase in power even at lower revs, allowing you to get heavy payloads moving with ease. The Panther engines are also more responsive and quieter than the earlier Puma models. The Transit Custom has quickly become a highly desirable choice thanks to its easy handling and strong suspension. It's been noted for its impressive agility which makes it easy to handle on corners and ensures you're getting where you're going quickly and safely. The Ford Transit Custom has quickly become a popular choice on the UK market for its excellent handling and powerful engine.
Is the Ford Transit the right van for me?
The Ford Transit van is a staple of the UK's roadways for a reason. It's been on the market for decades and in that time has been consistently updated and upgraded to keep its position as Britain's favourite van. The new generation are a highly practical choice. They combine a powerful motor with a large storage capacity to ensure you'll always be able to get where you need to go.
Why purchase a Ford Transit through Pace Van Hire?
At Pace Van Hire, we're a family-run business proudly serving the community offering rental vans from our locations in New Cross and Croydon. We've been active since the 1950s and have built a reputation for the quality of our vehicles and our customer service. We service the vehicles in our fleet every 10,000 miles so that you can be certain you're getting a van that's been well looked after in its time with us. Our friendly and dynamic team are like family to us and are always eager to go the extra mile for our customers. We are a well-established and trustworthy local business that wants to get you on the road with the perfect van for you.