Quick, compact, and powerful, drive away in your own Citroen Dispatch from Pace Van Hire.
If you're looking for a sturdy and versatile van, then the Citroen Dispatch is the perfect choice. The Dispatch is a modern vehicle with good fuel economy that is easy to drive. When we rent this van, we categorise it as a short wheelbase, making it compact enough to be practical but still large enough to accommodate a large payload. The Dispatch will handle payloads up to 1400 kilograms, making it strong enough to haul heavy items like furniture and the perfect dimensions for moving 8×4 plasterboard. The Citroen Dispatch is a very practical choice that will get you where you're going. It can easily fit a variety of payloads making it suitable for commercial and domestic jobs and is robust enough to withstand heavy use.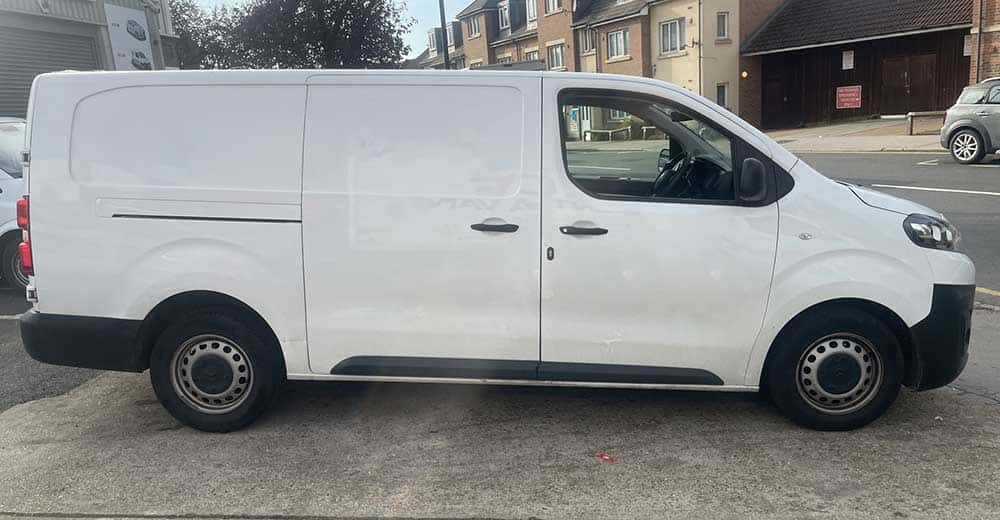 The Citroen Dispatch L2 accounts for the majority of our Dispatch stock. The L2 is a little narrower and shorter than average, but this is compensated for by extra length, so it has a similar cubic capacity to other vans. Being slimmer and shorter comes with its advantages, making it easier to navigate narrow streets and being able to easily fit under height restrictions in car parks. The extra length is further enhanced by a folding down passenger bench in the cab, increasing the maximum length of your payload and keeping you from having to secure it outside the vehicle. The size and shape make the Citroen Dispatch L2 a versatile vehicle that can take you and your payload anywhere you need to go.
History of the

Citroen Dispatch
The Citroen Dispatch was first introduced in 1996 as an ideal mid-point between the small and large vans on the market at the time. This made it the quintessential medium van, a highly versatile and functional choice. The Dispatch impressed motorists due to its rugged exterior and elegant combination of manoeuvrability and handling with impressive storage space. The design received a facelift in 2004 but was largely unchanged. It remained extremely practical and popular with the public. The Mark 2 released in 2007 to widespread acclaim, winning the 2008 International Van of the Year award. This model had hi-tech upgrades to enhance its performance and practicality. The Mark 3 hit the market in 2016 and accounts for the majority of the Dispatches in our fleet. The new model retained the excellent payload capacity and engine efficiency but was also enhanced with modern amenities. Another major change was the reduction in the roof height to ensure it would fit in car parks. This further increased the Dispatch's versatility and ensures that there's nowhere it can't go.
What
our customers

have to say
We've built a reputation to be proud of over the years. Our customers are consistently impressed by our work and have shared their thoughts on our services.
Rate 4.8 based on 450+ reviews on Google and Facebook.
Harriet Vickers
Super friendly, easy and efficient van hire, at a really good price. Got us out of a last minute pickle when ZipVan let us down!! Would definitely recommend.
Elinor Whittle
Really friendly customer service and a great price. The van was in good condition, good to drive and there was minimal faff in the hiring process. Would 100% recommend and use again!
Shane Stagg
Brilliant bunch of guys! Fast clean and reliable. Great value for money! Great service! Would highly recommend, they really do go the extra mile to satisfy the customers!
Engine and driving experience
The Citroen Dispatch comes with two engines of different sizes and power. We'd recommend the 2.0-litre 145 horsepower version as it allows you to really take advantage of this van's capabilities and gives you the power you need to haul its maximum payload. It is available as an automatic and as a six-speed manual, giving you maximum choice over how you want to drive. In its facelifts and updates since 1996 the Dispatch has been refined to create a smooth driving experience. The low position of the engine ensures that the vehicle has a lower centre of gravity. This improves handling and significantly reduces body roll on corners. With an appropriately powerful and energetic engine these vans are perfectly suited to their task. Their suspension, handling, and pneumatic doors mean your payload will be secure and easy to access on all of your jobs.
Is the Citroen Dispatch the right van for me?
A third-generation model, the Citroen Dispatch has only been improved over time. Its highly refined design is based on the Efficient Modular Platform 2 which has proven enormously successful with other vehicles. It is a modern van with excellent handling and a great maximum payload for its size. It is also kitted out with plenty of modern amenities to make your life easier and ensure a comfortable ride. Its compact size means it can fit in narrow and low spaces, including beneath car park height restrictions, making it the perfect choice for a tradesman on the move. Efficient and reasonable to run while still providing plenty of power, the Dispatch is a highly versatile vehicle that ensures you'll be able to get your payload where it needs to be.
Why purchase a Citroen Dispatch through Pace Van Hire?
At Pace Van Hire we pride ourselves on pairing our customers with the best vehicle for them and providing a superb service. We've been operating since the 1950s serving New Cross and are thrilled to have expanded into Croydon in 2018. We take excellent care of all the vehicles in our fleet. Whether they're for sale or hire, all our vans are serviced every 10,000 miles in-house by our professional maintenance team. We are dedicated to making sure our vehicles are always of the highest quality and ensuring you're getting a great deal. When you buy a van from us, you'll be working with a team with years of experience and a trustworthy reputation in the area. Our vehicles are high-quality and well maintained to ensure you're getting the perfect fit for your job.