No deposit,
no credit checks,
no hassle
– just convenient and affordable van hire.
Your choice of vans for hire

in Lewisham
£0 DEPOSIT OPTIONS AVAILABLE
Croydon
Euro 5 – No deposit standard
Euro 6 (ULEZ Compliant) – £200 deposit
Euro 6 (ULEZ Compliant) – £10 per day – no deposit
New Cross
Euro 6 (ULEZ Compliant) – £200 deposit
Euro 6 – £10 per day – no deposit
Eltham
Euro 6 (ULEZ Compliant) – £200 deposit
Euro 6 – £10 per day – no deposit
Rate 4.8 based on 450+ reviews on Google and Facebook.
Harriet Vickers
Super friendly, easy and efficient van hire, at a really good price. Got us out of a last minute pickle when ZipVan let us down!! Would definitely recommend.
Elinor Whittle
Really friendly customer service and a great price. The van was in good condition, good to drive and there was minimal faff in the hiring process. Would 100% recommend and use again!
Shane Stagg
Brilliant bunch of guys! Fast clean and reliable. Great value for money! Great service! Would highly recommend, they really do go the extra mile to satisfy the customers!
SELF DRIVE VAN HIRE

IN LEWISHAM
If you are looking to hire a van in the Lewisham area, then trust us at Pace to deliver exactly what you need. We offer a range of vehicles including small and short wheelbase vans, ideal for moving a few belongings or building materials.
Our van rental fleet also includes the long wheelbase and Luton vans, a perfect choice should you be transporting larger supplies, or even moving house. Whatever your requirements, we'll a van within our large fleet that will suit you perfectly.
Why choose us for

affordable van

hire in Lewisham?
24/7 drop off
Here at Pace, we put you in control of van hire. We offer collection seven days a week, preventing disruption your schedule. With our 24/7 drop-off service, you can return the vehicle to us at any hour. We also offer a one-day weekend hire should you just need a vehicle for a quick job!
Loyalty scheme
For those returning customers, we offer a loyalty scheme, meaning that every time you hire a van from us, you can earn credit towards a future hire. This is a small way for us to say thank you for choosing Pace.
No credit checks
With no need for a credit check or deposit, choose Pace for your next van rental.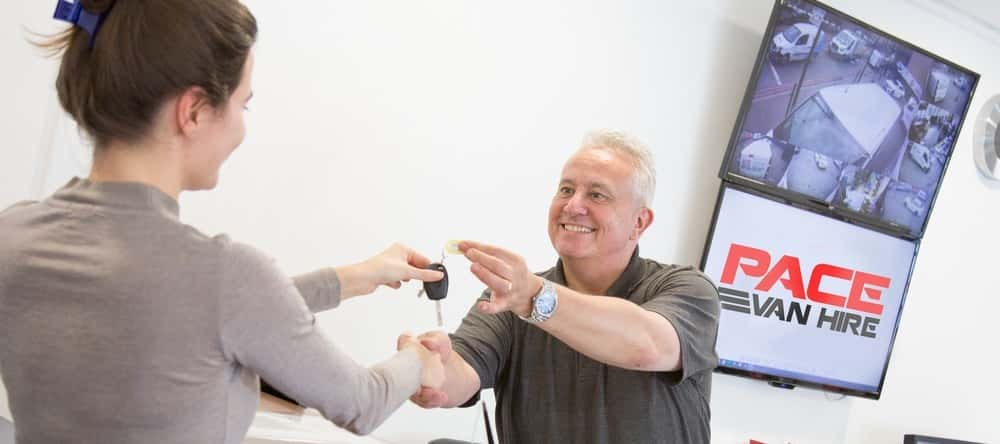 A
trusted

van hire
company in Lewisham
We have a long history of providing our vans to a number of customers throughout Lewisham. Numerous businesses on Lee High Road have used our services to transport their supplies. We have also provided our larger Luton vans to residents moving house in areas such as Manor House Gardens and Hither Green Lane.
What do you need

in order to hire a van
from us in Lewisham?
A valid UK or EU driving licence
It's obvious but it's still easy to forget. The licence needs to have been valid for at least two years and if you have an EU licence or a UK paper licence rather than a photocard you'll need to show additional photo ID.
Proof of current UK address
This doesn't have to match your licence, it just needs to be something official like a recent utility bill, bank statement, or a letter from HMRC. It can be physical or digital and it's best if it's from the last three months. If you are an EU licence holder, you'll need to be a UK resident.
A licence
check code
If you have a UK licence you'll need to generate a licence check code so that we can view your driving record. You can use the gov.uk site to do this using your National Insurance number, licence number, and the postcode on your licence.
A debit or
credit card
We don't accept cash so you'll need to have a card ready when we call you back to confirm your booking. That's the point where we'll be asking for payment so it's helpful to have your card details to hand.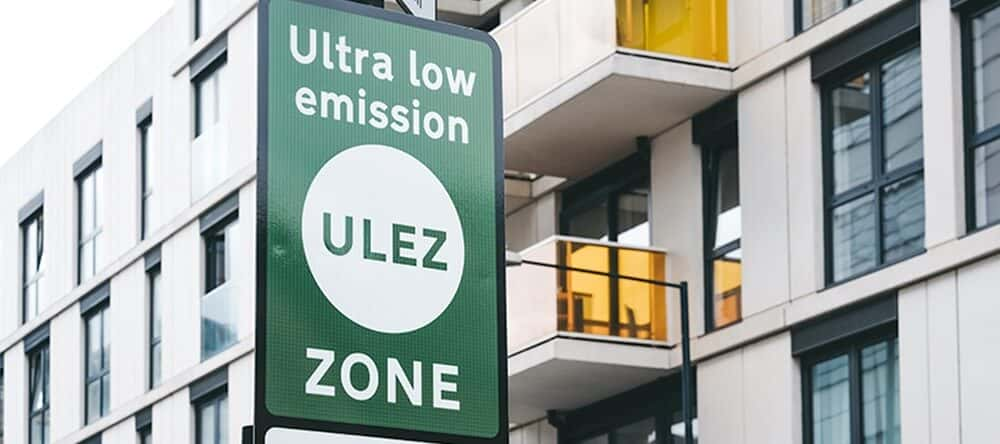 Do you need one
of our low emission vans?
Whilst hiring a van in Lewisham, it is likely you will be travelling within the Ultra Low Emission Zone (ULEZ). To avoid paying a daily £12.50 charge, consider hiring one of our low emission vans.
Our ULEZ vans comply with Euro 6 standards, allowing you to avoid paying the daily charge. These vehicles are priced the same as all other vans in our fleet, but it is important to remember that you will be required to pay a higher excess, as well as a deposit.
Van hire
for moving home in Lewisham
We have a broad range of vans for hire in Lewisham that are available to suit your needs. For smaller or more domestic loads our compact micro and small vans are most ideal. We also offer panel vans in short, long, and extended long wheelbases that are more suited to moving pieces of furniture as well as construction equipment and supplies. The largest vehicle we offer is the Luton van, best employed for moving house and even has a lift at the rear to assist with shifting heavy items.
Van hire accessories

– protect your payload
Ratchet Straps
Protect your payload with our 5m ratchet straps. While on the road these tough straps will keep up to 200kg of cargo secure and protected for its journey. Ratchet straps are available for purchase only.
Bubble Wrap
Ensure that nothing is damaged in transit by cushioning it in protective wrap. Available in 50 metre rolls you'll have plenty to work with to make sure your valuables and sensitive equipment are travelling safely. Each roll of bubble wrap is 750mm x 50m.
Working Gloves
Keep your hands from any discomfort from a day of moving heavy items with our high-quality work gloves. Heavy-duty enough to protect your hands but still flexible and breathable enough for versatility and comfort, they're a must have.
Premium Packing Blanket
Providing a protective layer or wrapping around your valuables these premium packing blankets are cross-stitched for extra strength and resilience. Our premium packing blankets measure 2m x 1.5m and are available for purchase only.
Packing Boxes
Our packing boxes are an essential for any transportation. Highly durable and versatile they ensure your payload is stored safely on its journey. Our medium boxes measure 47cm x 31.5cm x 30cm in area and 44 litres in volume. Our large boxes measure 53cm x 53cm x 41cm in area and 115 litres in volume.
Sack Trolley for Hire
The sack trolley keeps you and your cargo on the move. The trolley ensures you can safely load and unload your rental van by helping you manoeuvre loads of up to 200kg. Our sack trolleys are available for hire only.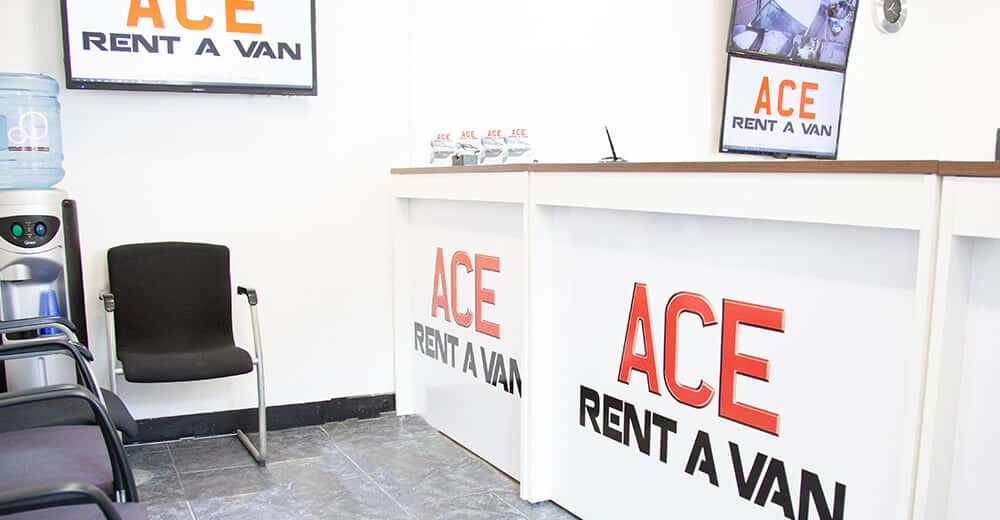 Pace Van Hire –
our history
Our family business began in the 1950s and has gone through many changes and adaptations since then. Most recently, we have changed our name from Ace Rent a Van to our current Pace Van Hire. What hasn't changed is our commitment to providing affordable van hire to Lewisham. As our business has grown, we have preserved our friendly attitude treating all our team members and customers as part of the family. Now with a second branch in Croydon and a fleet of dozens of vehicles, it couldn't be easier to rent a van in Lewisham area.
How to
find us
Below you will find directions to your nearest Pace Van Hire branch. You can find us at:
2-4 Pomeroy Street, New Cross, London, SE14 5BG
Follow the A20 up Lewisham way, then bare left past Goldsmiths, University of London. Once you have passed New Cross Gate Station, bare right up New Cross Road until you come to Pomeroy Street on the left, where you will find our New Cross branch. This drive should take no more than 20 minutes.
Take the 21 bus from stop F at Lewisham Station for around 25 minutes until you reach the Pomeroy Street stop. We are then just a short 1-minute walk away. Follow Pomeroy Street until you reach us!

Contact
us
For any enquiries, or to see what type of van will fit your needs, do not hesitate to contact us by calling 020 7277 9853, emailing us at info@pacevanhire.com, or booking online now. Alternatively, you can fill out our contact form and we will get back to you.