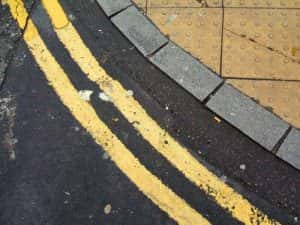 It is often the case that drivers have no choice but to park their vehicle on the pavement, whether it be partly, or wholly, but are drivers legally allowed to do this? Are you likely to receive a fine? With a range of rumours circulating, we have laid out the facts, clear and simple, to clarify and remove any confusion.
It is easy to understand the uncertainty around parking on pavements. As simple as it sounds, there are actually many different situations where people choose to park on the pavement, some of which could be committing different offences whilst others are acceptable. It is possible to be fined up to £70 for these offences, even if they are not considered illegal. The only official law that has been created it is illegal for any lorry or other vehicle over 7.5 tonnes to park on a pavement. For those under this weight limit, the rules within the Highway Code clearly state that you 'must not' park on the pavement, however, new laws are soon due to come into place which will ban pavement parking in its entirety.
When is it ok?
To be committing no offences whilst parking on the pavement, you will need to ensure that:
The road you are looking to park in consists of no parking restrictions
You have left an appropriate amount of space on the pavement for pedestrians to walk on, including pram and wheelchair users
You have left enough space in the road for all vehicles – including busses, vans and emergency transport – to pass through easily
Where and why can I be fined?
In some built-up areas, roads have wider pavements with allocated space markings on. These would be safe to park your vehicle on wholly. However, narrower pavements may not have markings and so before choosing to park, you must observe the area for any parking restrictions. If it is clear, park in a way which leaves a suitable amount of space either side of your vehicle, for pedestrians as well as other vehicles.
If the space seems tight upon your observation, you will have to remove your vehicle from the space to avoid paying a fine. If you do not do this, you may receive a fine. If you choose to park in this way on a residential street, it may be that homeowners deem it unacceptable and report it, resulting in you receiving a £70 fine. To avoid police enforcement, you must ensure that:
Your vehicle is not blocking use of the pavement, causing pedestrians to walk in the road and risk their safety
The street is not subject to parking restrictions, such as permit holders only, yellow or red line markings
It is possible that some vehicles believe that they are exempt from these rules, such as motorbikes or rented vehicles. Therefore, we must remind you that the Highway Code stands for all vehicles, whether it is yours or not. Any fines or charges will be picked up by the rental company and forwarded to the driver.
If you are considering hiring a van, get in touch with our helpful team at Pace Van Hire by calling 020 7277 9853 where we will be happy to discuss your options.