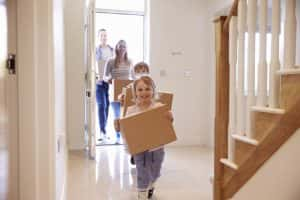 Any homeowners who have previously undergone a house move will understand just how physically and emotionally challenging it can be, and the larger the property, the more gruelling the move can be. By utilising the services offered by businesses around you, you'll be amazed at just how much stress is taken off of your shoulders. Whilst removal companies can often be on the costly side, van rental services can provide you with a beneficial vehicle at a fraction of the cost. In this blog we explore what size van you will need to move a 3-bedroom house… 
What van options are there?
Its no secret that vans come in a range of shapes and sizes, but this can often add to the confusion of which option is best for you.
For a 3-bed house move we generally advise customers to opt for our 4m long Luton vans. On top of their 900kg maximum load capacity, their assistive tail lift can also carry up to 500kg onto the van, helping to load and unload heavier items with ease.
You may find that, if you are down-sizing, you could benefit from a smaller van. This provides you with the options of a Long Wheelbase van and an Extended Long Wheelbase van. Whilst the maximum payload of both vehicles is 950kg, the depth of the storage space varies. Extended Long Wheelbase Vans have a length of at least 3.7m long, whilst Long Wheelbase Vans have a length of 3m.
How many goods can a Luton van hold?
Advising on just how much furniture a Luton van can hold can be difficult as there are many factors to be considered, including:
How you load and stack the goods. Furniture items can be bulky and awkward, so it's always safer to overestimate the amount of space you need.
What condition the items are in, and how fragile they are. This can affect how they are packed and prevent them from being stacked.
How many items you have in total. Generally speaking, the majority of our customers are able to move a 3-bedroom house in one trip with our Luton Vans and as a very rough guide we would say one of our Luton vans would fit the following load in a single trip:

40 large boxes of personal belongings
3-piece suite
Dining room table and stackable chairs
Wardrobe
Chest of drawers
3 kitchen appliances (white goods)
However, it is always worth having a chat with us prior to hire to clarify whether we think your items would all fit in one go.
If you are looking to hire a van for your house move, or if you have any queries about any of the van sizes in our fleet,  get in touch with our friendly team at Pace Van Hire.  With no deposit required, we will find the right vehicle for you. Give us a call on 020 7277 9853 to talk about van rental in more detail.