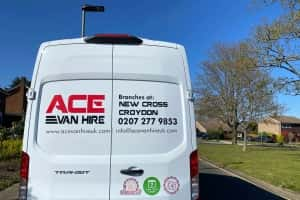 There are many reasons as to why you may hire a van and, with restrictions beginning to ease, it is likely that the majority of these will soon include transportation to locations further afield. When travelling anywhere, it is important that you keep yourself, your vehicle and your belongings safe and so, with an increase in bookings for van rentals, what better time to discuss the ways to secure your van.
Remove valuables from your van
"No tools are left in this van overnight" is frequently seen displayed upon vehicles once parked back at the workplace, a stop-off location overnight or outside their homes. Whilst this in itself can be an effective deterrent, there is one additional step that can be taken. It is important to remember that thieves operate 24 hours a day, so whenever your van is left out of sight (such as for a lunch break or whilst you venture into the workplace), it would be beneficial to remove your valuable items.
Secure valuables within your van
As frequently removing large items from your van may not be realistic, there are ways in which you can secure them within the vehicle. By purchasing an on-board safe, you can lock and bolt your valuables to the base of your van, reducing the ability for a thief to make a quick escape with your belongings. As long as your keys are kept in your possession, this could potentially prevent the thieves from taking anything at all.
Keep a log
When loading your van up for the day ahead, take a note of which items are stored onboard. You can do this by taking a photograph or video, or simply listing the items in your notepad. Although this can't physically prevent your belongings being taken if the problem was to arise, it would still allow you to accurately report the stolen items and have them replaced.
Parking
Parking wisely is one of the safest judgements you can make for the security of your vehicle. During the day, park your vehicle in a busy location which remains in eyesight of passers-by, or in carparks which operate CCTV. During the night, opt for spaces under lampposts or outside housing properties with Ring doorbells or other forms of security cameras. You may also want to park in locations where you can back-up against a wall, disabling the opportunity for thieves to enter the back of your van.
For any enquires into the safety of your van, or to speak with a member of our Pace Van Hire team about the vehicles we have available for hire, get in touch today. Call us on 020 7277 9853 or email us at info@pacevanhire.com and we will be happy to help you.