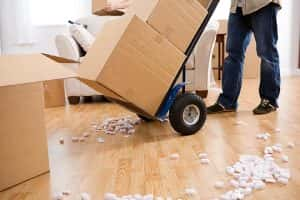 There are many reasons why you may need to hire a van. From house moves to office renovations – there are certain items of furniture, tools or goods that just cannot be transported on foot or within a car. Nowadays, with the game stepping up, there are a range of additional accessories available from rental companies which provide you with an even smoother and safer journey whilst transporting throughout the country. Transferring your load from A to B doesn't get much better than this!
Ratchet straps
Hardwearing ratchet straps are the perfect accessory for ensuring that your load stays in place throughout the entirety of your travels. Expecting a journey across an unmade road to reach your new property? Ratchet straps are a must to ensure your furniture remains protected.
Blankets
Packing blankets of all shapes and sizes are ideal for protecting those brand new, untouched items of furniture whilst on the move. By layering them between items, or using them as a protective wrap, you can ensure your shiny new desks arrive at the office in immaculate condition.
Bubble wrap
It's a classic and one that is still used for a reason! Bubble wrap is a highly effective way of cushioning your shipment whilst on the move, protecting it from obtaining any damage whilst travelling over any lumps, bumps and winds in the road.
Working gloves
Transporting a heavy load from the vehicle and into your location is bound to involve an element of lifting and carrying. No matter how small these items are, over a period of time, friction and discomfort can begin to wear away at your hands. Protect them from the outset with durable working gloves.
Sack trolley
Whilst protecting your hands, why not minimise the amount of carrying required with a two-wheeled, easily manoeuvrable sack trolley. With the ability to transport weight up to 200kg, relieve your muscles of strain when transporting your tools onto site.
Packing boxes
Packing boxes of all sizes can benefit your journey in a handful of ways. Whether they are to keep particular belongings with their relevant partners, to allow you to pack the rental vehicle in the most efficient way possible, or to transport from van to location simply, packing boxes can be a necessity.
With Pace Van Hire, transporting your goods from A to B has never been easier. Whatever your requirement, get in touch with us to see how our range of accessories could benefit your journey. Give us a call on 020 7277 9853 or email us at info@pacevanhire.com today.