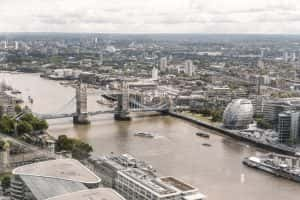 In June 2020, we featured within an article in The Parliamentary Review in regard to the government's recently announced plans to expand the ULEZ zone within the City of London, and our fear for the impact on small, local businesses. The release of The Parliamentary Review is a key marker within the political calendar, one of which shares the ability to listen and learn from one another, both within parliament and the public, and so we appreciate the opportunity to share our thoughts and opinions.
As a family run business that has stood tall since 1954 throughout both of our New Cross and Croydon branches, we understand the current needs of our local public and how the effects of the ultra-low emission zone expansion will directly impact their small businesses.
It is important that we stress that we are all too aware that an action needs to be made to decrease the pollution levels within our City, but, as a small business ourselves, we remain wary for the number of lesser known companies which may be impacted as a result.
As a small business who originated within the hire sector during the beginning of our business timeline, we are familiar of the effects that the ultra-low emission zone has on businesses like ours. We primarily focused on used car sales, a sector which became unsustainable after the announcement to bring in the ULEZ rules and regulations. We used our knowledge of the market and took a step into the business of van rentals, alas, Pace Van Hire was born. However, with the announcement and changes happening within a short turnaround, there is a risk that our current business may also take a hit due to the minimal time we have to ensure that our newly expanded fleet of vans all comply with the emission standards.
In 2018, it was further announced that vehicles which do not comply with the ULEZ emission standards will have to pay a charge of £12.50 for each day that they wish to enter the capital. This announcement itself understandably, but sadly, decreased the number of people travelling into London, leaving small businesses standing without the income they require. With the recent news to expand the zone further, this can only be expected to affect more businesses after so far struggling to survive the effects of the COVID-19 pandemic.
To read more about how we here at Pace Van Hire are coping with the changes made to the ultra-low emission zone and our thoughts and opinions on how it will affect the future of small businesses like ours in and around the City of London, take a look at our published article within The Parliamentary Review.