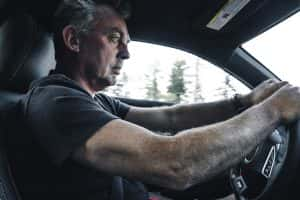 One of the highest demands for van rental is for the purpose of transporting goods to and from different locations. With a range of vans available in various sizes, they allow those to-and-from-journeys to be cut down to one successful trip, ideal for those tedious long-haul drives.
No matter how many trips lie ahead for you and your van, the thought of sitting in the same spot for miles on end, listening to the same humming of the tyres on the road beneath you is enough to allow your attention to drift, and that is before you've even sat behind the wheel! Vigilance on the road is something that must remain high at all times for the safety of you, your vehicle and other road users. We have gathered our top five tips for you to ensure that you fight off the tedious drifting and remain alert at all times.
It is important to be aware of the actions that your mind and body may take whilst on the road, as these could signal the reduction of concentration and awareness of the operation of your vehicle, as well as your surroundings. If you notice the occurrence of the following signs of drowsiness, take the correct actions to eliminate the lethargy as soon as possible:
You find yourself daydreaming
You experience long pauses between blinks
You can't recall the previous stretch of road or begin questioning if you've missed an exit or turning
You experience the feeling of heavy eyelids or burning eyes
You begin to feel restless
To prevent these signs from occurring whilst on the road, take the time to prepare with the following:
Ensure you are well rested
From ensuring that you receive a full night's sleep for the morning of your drive, to taking a long-enough nap to ensure that you are well rested for your daytime journey ahead, sleep allows your senses to rest and revive themselves appropriately, allowing your mind to stay alert throughout your drive. The same action occurs whilst on the road. For those extreme long-haul drives, you may find tiredness kicks in at a certain point. When this occurs, pull up and park at the nearest service station or safe place, switch your ignition off and give yourself a well-deserved doze in the car.
Choose an appropriate time for travel
On the subject of sleep, it is worth remembering that the human body adheres to a natural body clock. As humans, we aren't nocturnal, and so our minds will undoubtably become lethargic as the hours pass by and the sun begins to set. Statistically, driving between the hours of 12am and 6am puts drivers and other road users at a greater risk whilst travelling so, if possible, avoid these times and opt for hours earlier in the day to ensure that your body and mind remain as alert as possible.
Keep yourself moving
Long-haul journeys involve minimum movement of the body, other than the slight movement of your arms and flexing of your ankle joints. Because of this, the body can find itself becoming irritable or restless. If you begin to see signs of this, find a safe place to park, such as a service station, and allow yourself the time to get out of your vehicle and stretch your body. The action of lengthening your arms and legs can be enough to allow your mind to focus and continue safely with the journey ahead, but if you are able, take a small stroll around a car park to guarantee that you feel refreshed and energised.
Feel the fresh air
On par with our previous point, you may begin to find your body becoming restless but be within a location where is unable to safely pull over and park. When this is the case, the simple act of opening your windows can reverse any signs of lethargy. Fresh air is a wonderful thing which is often taken for granted, and by letting it fill the inside of your van, you can be sure to receive heaps of oxygen that will work to re-energise your mind.
Hydration is key
Dehydration is one of the main causes of fatigue. Although caffeine has the ability to awaken your senses, the effect is only temporary, so it is important to not rely too heavily on coffee or caffeinated energy drinks. Water has the ability to rehydrate you instantly, allowing your senses to refresh and reversing signs of lethargy, from dull and heavy eyes to irritable muscles.
If you are seeking further advice and guidance of ways to ensure that you remain safe and alert whilst on the road, or if you are keen to find out more about the range of vans we have available for hire, don't hesitate to get in touch with our Pace Van Hire team today. Give us a call on 020 7277 9853 or drop us an email at info@pacevanhire.com where we will be happy to offer our help and advice in any way we can.