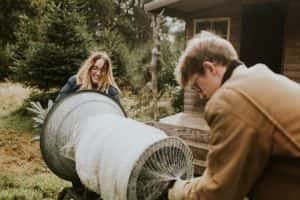 With the countdown to Christmas speeding through faster than ever before, you wouldn't be criticised for feeling the need to panic. However, there is still enough time to prepare, and we are here to help. Christmas is one of the times for our vans to really shine – they prove year after year that they may be just as helpful as Santa's sleigh on Christmas Eve!
Transport your Christmas tree
There's nothing better than the smell of a real Christmas tree, but when it comes to choosing the right one for our homes, we can often be limited. Having to take into consideration the size of your car, the passengers within it, and the ability to drive safely, reduces your options by a fair amount. With a spacious vehicle, you can drive safely and commute comfortably with the winning tree safely secured inside the van's loading space.
Supply those emergency chairs
In any household its likely to be a yearly tradition that there's a lack of seating. With half of the family on dining room chairs, others are often left perched on stools or garden furniture. Whilst the mismatch can be amusing, it can also create discomfort. Lend a helping hand this time around and hire a van to transport your set of dining room chairs to your host's property on Christmas Day with ease, creating an inclusive dinner with comfort for all.
Out with the old, in with the new
It can be a guilty pleasure each year to update your Christmas decorations piece by piece. However, before you know it, you can end up with a whole loft of wreaths, endless boxes of baubles, and countess bags of lights. It may be the time for a clear-out, and it needn't be a hefty job either. Utilising a hired van, you can limit your trips to the waste centre and charity shops. You'll even have the room in the back to collect any decorations you see on the way home (don't try and deny it…!)
Give the gift of joy this Christmas
Christmas is a busy time of year for all, so why not offer a helping hand? Cut the trips to and from the local shopping centre for your friends and family with the aid of an empty van, ready to hold countless gifts that will bring joy to everyone involved, whether they're giving or receiving. Just make sure to check that list twice! You may even wish to play the role of Santa Claus, delivering presents around your local area and checking off your list as you go!
Are you dreaming of a smooth-running Christmas? Here at Pace Van Hire, we have a range of vans available for convenient self-hire, each with no deposit required. Choose between a range of sizes, from our small vans to our Luton vans, accompanied with tail lifts and over the cabin storage. For more information on our vehicles, a member of our team will be happy to help you. Get in touch by calling 020 7277 9853 or emailing info@acevanhireuk.com.