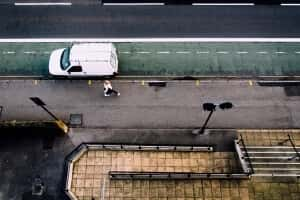 Amongst all van drivers, parking and loading restrictions can cause some confusion. Can we park here? Can we load there? Allow us to remove the uncertainty and grant you confidence when behind the wheel of your van and approaching a series of road markings.
Failure to comply
If you fail to comply with the rules of the below restrictions, you can face receiving a penalty charge notice, issued by civil enforcement officers.
It is important to remember that, with a range of markings and restrictions for varied locations, there is no fixed penalty charge. The height of the fine depends on where you receive it, and why. You will have 28 days to pay these penalties but can receive a 50% decrease if you complete payment within 14 days.
If you are renting a vehicle, as the named driver, will remain solely responsible for the cost of the fine, even if the penalty charge notice is sent directly to your rental company.
Yellow routes:
Single yellow lines
A single yellow line signifies that at some stages of the day, there are likely to be parking restrictions. These will be specified on small yellow signs along the sides of the road.
Loading and unloading is permitted on a single yellow line so long as you are able to refrain from causing an obstruction and see no loading bans present.
If white parking bays are present, you should park your vehicle here, even if the restrictions on single yellow lines are not currently in action.
Double yellow lines
A double yellow line signifies that parking is prohibited at all times, 7 days a week. There may not be a sign present, so it is important that you remember this to avoid facing a penalty charge.
Double yellow lines also state that there must be no waiting at any time.
Keep driving and follow signage to blue 'P' locations to find the nearest white marked bays for parking.
Red routes:
Single red lines
Parking, loading and unloading are prohibited on single red lines.
Signage along the side of the road will list specified timings where stopping is not permitted. It is likely that these times will match with those of the rush hour.
It is important to remember that these single red lines apply to the road, pavement and verge.
Double red lines
Parking, loading and unloading are prohibited on double red lines.
You must never stop on a double red line.
It is important to remember that these double red lines also apply to the road, pavement and verge.
White box
A white marked box on the road means that it is available for parking throughout the day. Make sure to look out for Pay & Display signs as parking may not always be free and could still result in a fine if left unpaid.
Red box
Refer to the nearest signage when approaching a red box. These signify that the use of the box is only permitted for a specified purpose, between dedicated times.
Loading and unloading is only allowed in red marked boxes with signage specifying so. These signs will also include time and day restrictions.
These boxes are monitored throughout the day by traffic enforcement cameras and civil enforcement officers to ensure that roads remain clear when required.
Red route clearways
A part of the red routes throughout the City of London and surrounding locations are signified by sole use of clearway signs, with red lines only appearing when approaching roundabouts or junctions. On busy roads, you can almost guarantee that stopping, loading, unloading and parking will be prohibited, so if you see no visible red lines, take a second look for any repetitive clearway signage.
Here at Pace Van Hire, our range of vans are available for hire all year round. For any enquires or additional prompts on the usage of the UK's roads or the vehicles themselves, get in touch with a member of our team who will be happy to help. Give us a call on 020 7277 9853 or drop us an email at info@pacevanhire.com today.