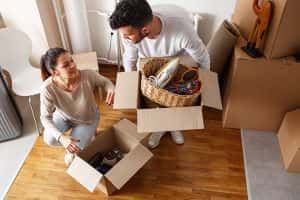 When the time comes to move house, nobody wants to feel stressed because they left their packing to the last minute. Having a clear strategy for your packing process will give you peace of mind about the whole moving experience. If you choose not to plan in advance then you might not know where everything is. This will cause your move to take much longer. Take a look at our top tips to find out how to pack for a move effectively.
Packing for a move
Don't leave anything to chance when you are preparing to move house. Meticulously planning every stage of the process will mean that everything runs smoothly on the big day. Packing without careful consideration is not a good idea, so here is our advice on how to stay in control.
Consider what you might need

One of the biggest mistakes that you can make is boxing up items that you are going to need to use before your move happens. When you begin packing, make sure to start with the things that you won't need to use until you arrive at your new home. This will mean that you are not going to end up wasting time unpacking and repacking boxes all the time.

Organise effectively

Organising your belongings will make the unpacking process far easier once you have arrived at your new home. Nobody wants to be digging through boxes and finding random items piled on top of each other. There are a couple of ways in which you can keep track of your stuff and make the task of unboxing everything a lot less daunting. Firstly, you can label each box to remind yourself which room it is for. This will enable you to take each box straight to the room it needs to be in without having to open and look through it. Another effective way to track your belongings is to colour code your boxes, helping you to organise everything and save time.

Pack similar things together

Packing items that are going to go together in your new home will save you time and energy. Instead of having to take completely different things all over the house, you will be able to methodically work your way around unboxing items. It is also beneficial to load large items of furniture into the van first so that you can put smaller items at the front, making them more easily accessible.

Don't rush it

If you leave yourself with too little time to pack all your belongings, then you are more likely to lose track of things. You don't want to end up rushing around and breaking something that you need or care about. It is always a good idea to give yourself a little longer than you think you will need to ensure that things go to plan.
Hire a moving van
Now that you know how to pack for your move effectively, all you need is a moving van. Here at Pace Van Hire, we have a range of vans available for hire that will be suitable for your big move. Give us a call on 020 7277 9853 or email info@pacevanhireuk.com and we'll get back to you to discuss your requirements.