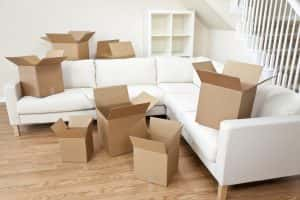 Moving home can be incredibly exciting, but at the same time, incredibly stressful. Organising several years' worth of accumulated belongings and moving them to a new location can seem a huge and time-consuming undertaking.
Not to worry, we've provided a moving home checklist for you that's designed to take the hassle out of your big move:
1. Make a list of everyone who needs to be notified
Make a list of everyone who contacts you at your current address. This includes friends and family, employers, childrens' schools, council, electoral roll, TV licensing, DVLA, banks, doctor, dentist, insurance companies and so on. Go through the last few months' post to see who sends you mail.
2. Give your landlord notice
If you're renting, you'll need to let your landlord know when you're planning to move. See if you can time your moving date with the end of your lease. It's a good idea to notify your landlord in writing with a letter or email, as it will protect you if a rental dispute arises.
3. Notify your utility providers and subscription services
Contact each utility provider and subscription service directly and notify them of your new address. Remember to take a final meter reading of each utility meter before you move. It may take time to set up the internet at your new address, so make sure you can access the internet via your phone in the meantime.
4. Get quotes on your removal costs
Decide on a removal solution that's right for your budget and the amount of belongings you have to move. In many cases, hiring a van can be a simple and cost-effective solution. Getting a few friends round to help is also a great idea.
5. Have a big clear out
You may be shocked to discover how many things you've accumulated over the years. Ask yourself honestly if you will ever use each item again. If the answer is no, donate it to charity or recycle it. For large items, arrange for the council to pick them up.
6. Pack everything into labeled boxes
It would be wise to start saving and collecting strong, suitable boxes ahead of your move. Organise everything into categories of similar items. Then pack items in each category into their own box and label the box with a list of contents. You don't want to be rooting around to find a certain item when you've moved in. Be sure to pack the boxes safely and securely.
7. Work out where everything is in your new home
You need to know where all the important things are in your new home to get your utilities up and running and to troubleshoot any issues. Make sure you know where to find the following: the stopcock (for controlling the water supply), gas and electricity meters, fuse box, and instructions for any appliances. Also, be sure to take meter readings when you move first arrive in case of any utility billing discrepancies. Taking a photo on your phone of the meters gives you a record of the date of the reading.
8. Prepare your essential items
When the big day comes, you'll be rushed off your feet. So make sure you pack a box of all the essentials you need when you move into your new home and keep it accessible. Don't forget to include a kettle, tea, milk, mugs, bread, cutlery, plates, toilet roll and toiletries.
Have you considered hiring a van to help you move home? Get in touch with our friendly  Pace Van Hire team! With no deposit and low excess options we are sure to find a good deal for you. Call us on 020 7277 9853 and we'll get you into your new home for a price that's easy on your wallet.