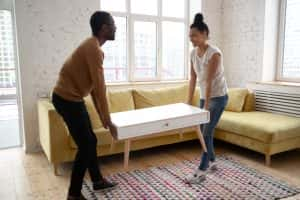 In the lead up to a house move, nobody gets excited to move heavy furniture. Arranging transport for furniture can be a daunting task, with many people leaving it to the last minute and rushing the process. It is important that you leave yourself plenty of time to load furniture into your van, or you could risk damaging items or injuring yourself. Take a look at a few of our top tips on how to move heavy furniture safely:
Use specialist equipment
When you are moving heavy furniture for a house move, using a dolly and slider or will be of great benefit to you. You can either rent this equipment or purchase it from a home improvement store or hire it from us directly when you collect your vehicle. A furniture dolly enables you to move heavy items with ease, with four wheels and a platform for you to put your belongings on. Using a slider alongside this will make things easy. With rubber on one side and plastic on the other, a furniture slider allows you to slide furniture over the floor easily without any damage being caused. Our two wheeled sack trolleys allow you to effortlessly manoeuvre payload up to 200kg, heavy white goods or multiple boxes at once are great on a sack trolley.
Take your time
While you may want to get the process over and done with quickly, it is important not to underestimate the weight of your furniture when you are moving it. Make sure to check whether you can take apart your larger items of furniture in order to make the moving process more straightforward. Plus, you need to ensure that the heavy items you are lifting can fit through every door and hallway, so you don't end up panicking and making a mistake. Planning how you are going to transport your heavy belongings will make the process safer and more efficient.
Be careful
If you are lifting heavy furniture then you must know the correct lifting techniques, otherwise you could risk sustaining an injury. Take a look at our advice to reduce the risk of injury during the process of transporting your furniture:
Hold the furniture as close to your body as possible.
Use the strength of your legs when lifting, while bending your knees and keeping your back straight.
If you need to turn around or move sideways, make sure to use your legs and not your hips.
Push heavy furniture rather than pulling it.
Do not get distracted while you are moving heavy items.
Choose Pace Van Hire
Do you need a van to use for your house move? Here at Pace Van Hire, we can provide vans of any size for hire at reasonable rates. When you choose Pace Van Hire, you can rest assured that you will receive a van that is ideal for your requirements. We will consider your needs and recommend a van that will be perfect for the job. If you want to hire a reliable, high-quality van to transport your heavy furniture, don't hesitate to get in touch. Give us a call on 020 7277 9853 or email info@pacevanhireuk.com and we will get back to you promptly to discuss your requirements.