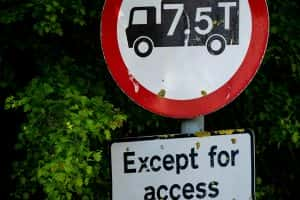 Many of our customers are used to driving smaller four-wheeled vehicles and are faced with a period of shock and uncertainty when they realise just how different things can look and feel from the drivers seat of a van. The size of the vehicle itself results in you being much higher off the ground than you would in your Volkswagen Polo. You will also be lacking a rear-view mirror and rear window which can be one of the most daunting changes for van drivers. We have put together a guide to ensure that you feel as comfortable as possible when driving your van away from the forecourt.
Check the weather
One of the first factors that could bring worry to some drivers is the weather, and this factor is ultimately one that we can't change! Harsh weather conditions can make driving challenging in any vehicle and you must remain relaxed to ensure that you keep in control of the vehicle. If possible, we would recommend checking the weather forecast ahead of time, and perhaps tailoring your journey around the dates or times that bad weather is expected. This way, there can be one thing less to worry about!
Prepare correctly
When sitting in the drivers' seat for the first time, adjust everything to your comfort whilst the ignition remains off. From the seat positioning to the mirrors, make sure that you can reach the pedals and see your surroundings clearly. Familiarise yourself with the location of your controls, preventing you from looking for them whist travelling at 50mph and causing risk to yourself and other road users. This includes the windscreen wipers, lights, wing mirrors, air conditioning or heater and radio controls. Once you are aware of what is available to you and you are sitting comfortably, you can switch on the ignition with confidence.
Do you know your dimensions?
Once on the road, it may slip your mind that you are driving in a vehicle much larger than what you may be used to. This could end badly when it comes to entering a multistorey carpark, driving under a bridge or heading down a narrow lane with a weight limit. Educate yourself on the height, length and weight of your vehicle before setting off and pay attention to those signs you may have been able to ignore previously. You may also be limited to certain speed limits on different road types. Learn your new dimensions and pay attention to those signs!
Manoeuvre with confidence
You may have mastered the art of driving in a straight line within the van, but don't let this confidence fade when it comes to reversing, parking or operating a three-point turn. In fact, lets start with that. In a vehicle so much larger, three-point turns are most likely going to evolve into five-point turns (or more!), so don't kick yourself if that one doesn't work out! Reversing and parking without a rear-view window and mirror can be daunting, but they wouldn't be removed if it wasn't safe, so stay calm! With your wingmirrors and windows, you will have visibility to every angle needed, so just take it slow.
If you feel as though you would benefit from additional advice or assistance when hiring one of the vans on offer here at Pace Van Hire, then get in touch with our team! We are here to make the process simple for you, whatever it may be that you need. Give us a call on 020 7277 9853 or drop us an email at info@pacevanhire.com. We are ready to help you onto the road!