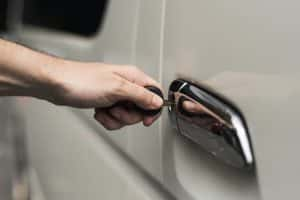 Driving safely is extremely important for the safety of you, your passengers, and other users of the road, but on top of this, there are further repercussions that could emerge. When it comes to hiring a rental van, no matter your need, a handful of checks will be undertaken, including one on your licence. This is where having points on your licence could affect your ability to rent a vehicle.
Driving licence endorsements
There are a selection of law-breaking driving offences that could lead to you gaining endorsements on your licence. These could range from three to eleven points per offence. If you build up your points to twelve or more within a three year period, you will gain a driving disqualification.
Can you rent a van with points on your licence?
When it comes to renting a van with points on your licence, we don't have a straight answer for you on your ability to hire. It will be entirely dependent on your rental company and their rental policies.However, there may be factors such as your offences, the number of points on your licence and the period of time in which you gained them that may sway in your favour.
Should you wish to hire a vehicle with three points on your licence, your chances will be elevated. Many rental companies will review the offence and time that has passed since the offence, as well as the number of years that have passed since you first gained your licence.
Should you wish to hire a vehicle with six points or more on your licence, the likelihood will decrease. Throughout the UK, it is unlikely that any rental company will accept a licence with over six points built up. Again, additional circumstances will be considered.
If your endorsements are approaching a driving ban or you have had your licence revoked, you will be unable to hire a rental vehicle at that time. Once you have regained your licence – if possible – you will need to allow a further five years to pass before you are able to rent a van again.
Why do endorsements affect your ability to hire a van?
All rental companies will be covered by an insurance that, in turn, covers you as the main driver upon hiring. Whilst many insurers have margins in their contracts for a small number of points, your rental company will need to consider the likelihood of their insurance underwriter covering a driver with a series of offences on their licence.
Do you have a question about your ability to hire a rental van? At Pace Van Hire, we are happy to have a discussion about your circumstances. To find out if you are eligible to hire one of our vehicles, get in touch. Give us a call on 020 7277 9853 or email us at info@acevanhireuk.com and we will be happy to advise you further.