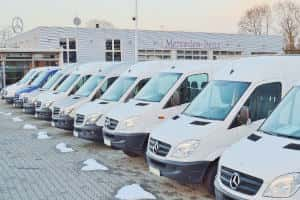 What's better, fleet hire or fleet ownership? It's a tough decision to make, and there's no "one size fits all" answer. It all depends on your individual needs and circumstances.
To help you decide, we've rounded up the pros and cons of fleet hire and fleet ownership:
Fleet ownership: Pros
Purchasing your own fleet will be expensive, but many dealers offer deals on fleets of 3-4 vehicles and upwards.
The vehicles will be an asset within your business which will help with your accounts and balance sheets.
You can sell the vehicles whenever you like.
You will not be charged if the vehicles are damaged or accumulate high mileage.
If you buy the vehicles using a loan, you can offset 100% of the interest charges against your end of year tax bill.
Fleet ownership: Cons
Even with dealer discounts, purchasing your own fleet is going to be expensive. You'll need a big chunk of capital to buy an entire fleet outright.
You'll be shouldered with the responsibility of maintaining and cleaning your vehicles. Most companies employ a fleet manager to ensure all their vehicles are properly maintained and cleaned. You'll need to consider the cost of this extra employee when purchasing a fleet.
There's a level of uncertainty about what your vehicles will be worth when you've gotten your use out of them. Finding buyers and allocating time to show them the vehicles takes time and effort.
Purchasing vehicles can negatively impact your debt-to-equity ratio, making your company appear less attractive to lenders or investors.
Fleet hire: Pros
Fleet hire has numerous advantages, and the British Vehicle Rental and Leasing Association has reported that an increasing number of businesses are choosing hiring vehicles over purchasing them.
Fleet hire is cheaper than purchasing, with minimal up-front costs in comparison to the cost of purchasing a fleet of vehicles. Paying a monthly fee for a lease over a fixed term will almost always be cheaper than purchasing the vehicles outright.
Fleet hire gives you maximum flexibility. At the end of your contract hire agreement, you'll have the chance to negotiate a new contract with new vehicles. Your employees will love the opportunity to drive the latest models on the market, and more importantly, you'll make an excellent impression on your clients.
Fleet hire vehicles can be offset against your company tax and VAT bill. For example, vans on contract hire can claim back 100% of the VAT whether the van is used primarily for business or personal use.
If you take out a maintenance package on your hired fleet, you can claim 100% of the VAT against your corporation tax.
Fleet hire: Cons
With so many pros, there are not many cons to hiring a fleet of vehicles over buying them.
The biggest and most obvious con would be that you don't own the vehicles.
You need to make sure you stick within the mileage limits to avoid excess charges. It's a good idea to ask your drivers to report their mileage every month so you can keep tabs on it.
You need to make sure the vehicle is returned in good working order and carry out routine maintenance according to the terms of the lease. If the vehicle is returned with damage, you'll have to cover the cost of the repairs.
Thinking about hiring a fleet of vans? Talk to our Pace Van Hire team before you take the next step. We'll help you explore the various options and find the best one for you and your business. Start by giving us a call on 020 7277 9853 and we'll take it from there.