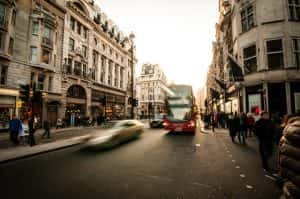 On 21st February 2022, the timing restrictions within the Congestion Charge zone changed. The zone and its prices have been put in place in a bid to reduce traffic within central London. With these changes in place, we're here to run through everything you need to know.
What changes have occurred to the Congestion Charge timings?
During the pandemic, the weekly operating hours of the congestion zone were changed to 7am – 10pm to encourage travelling via foot or bike. However, the Mayor of London, Sadiq Khan, has now reverted the operating hours back to those used in pre-pandemic times.
Speaking to the Evening Standard, Khan has said that evening traffic is "to some extent, to be expected, as traffic is no longer disincentivised from driving in the congestion charge zone". In his words, "It's really important for our policies to be pro-environment, pro-cleaning up our air, and also pro-businesses."
The operating hours for the Congestion Charge zone are now:
Monday – Friday: 7am – 6pm
Weekends and bank holidays: 12pm – 6pm
There will be no charge between Christmas Day and New Years' Day
Where is the Congestion Charge zone situated?
The location of the zone remains the same. It covers the area lined by the A501, A4202, A302, A201, A100 and A1210. This includes the popular areas of Mayfair, Waterloo, Soho, Westminster, Marylebone, Farringdon and Clerkenwell.
If you are planning to drive through a part of central London and are unsure if you will need to pay the Congestion Charge, take a look at TfL's location checker.
Congestion Charge payments
During its operating hours, the charge for the congestion zone is £15 for payments made in advance or on the day, or £17.50 with a deadline to pay by midnight on the third day after your journey. If you fail to pay this charge, you will receive a Penalty Charge Notice (PCN).
There are multiple ways to pay your Congestion Charge fee, including setting up an Auto Pay and paying online before your journey starts. TfL also provide the ability to pay online after your journey.
For residents within the area, you may be entitled to a 90% discount, and Blue Badge holders could also be entitled to a fee reduction. To see if you are eligible, you will need to apply through TfL's discounts and exemptions page.
Congestion Charge exemptions
There are a number of exemptions from the Congestion Charge fee. These include:
Two wheeled motorbikes
Two wheeled mopeds
Emergency service vehicles with a taxation class of 'ambulance' or 'fire engine' on the day of the journey
NHS vehicles which are exempt from tax payments
Licensed London Taxi and Private Hire (TPH) vehicles
Vehicles that are used for the transportation of more than one disabled person within a 'disabled' tax class
For more information on the changes to the Congestion Charge zone, visit TfL's Congestion Charge page or reach out to a member of our Pace Rent A Van team who will be happy to advise further. Please note, if you are renting one of our vehicles, you will be liable for the fees required to enter the Congestion Charge zone. Give us a call on 020 7277 9853 or send an email to info@pacevanhire.com.