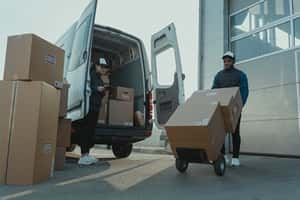 When it comes to renting a van, you may be unsure of the right kind for you. You may even be unaware that there are a range of different kinds to choose from! Today, we walk through the main factors that you should consider when looking into renting a van.
What is your intended use for the van?
There are a range of reasons as to why people wish to hire a van, from moving house to businesses rentals. Ask yourself what you intend to use the vehicle for and take thought into what you will be needing to transport. Will there be frozen foods on board? Maybe you are holding a charity event and need somewhere to store your seating, banners and promotional goods. All of these factors can point you towards varying van types.
What payload do you require?
You will need to then consider the weight, volume and sizing of the goods you are seeking transport for. Different vans come with higher payload limits than others and so, to remain compliant with road safety guidelines and avoid taking on a hefty fine, you will need to choose your hire vehicle in line with the weight and sizing of your transporting goods.
How many passengers will be travelling?
From minibuses to Luton vans, the number of seats within each vehicle can vary. Calculate the number of passengers that will be travelling with you and take a look into your options before requesting a certain vehicle. Each passenger must have their own seat and seatbelt to comply with national laws.
What size van will work on your chosen route?
It may be that you are looking to transport office furniture to a new location and the route you intended to take may involve use of narrow lanes and low bridges. If you are unable to alter the route to your desired location, it may be that you need to hire a smaller van which complies with the restrictions and make a series of trips.
So, what are the vans that you can choose from?
Here at Pace Van Hire, we have a number of vans available for a wide range of uses. These include
If you are seeking further assistance on choosing the right van for you, or wish to enquire about a particular rental vehicle, get in touch with a member of our Pace Van Hire team today by calling 020 7277 9853 or drop us an email at info@pacevanhire.com where we will be happy to offer our help and advice in any way we can.