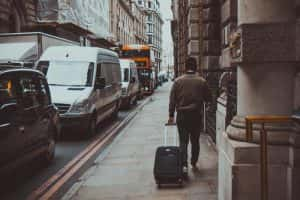 From 22nd June 2020, the Government and TFL added a temporary change to the Congestion Charge. The alteration was put in place in a bid to aid London's recovery from this global pandemic and to ensure that our city is not restricted by cars or congestion.
The Mayor, Sadiq Khan, plans for this action to result in a cleaner and purer living environment for London's residents and commuters. As the Congestion Charge zone widened, the charge itself rose to £15, operating from 7am until 10pm, seven days a week. The residents' discount will also be closing to any applicants from 1st August 2020.
Recent surveys have shown that, even though London still remains in a part-lockdown, vehicle traffic within the Congestion Zone is said to have already risen to pre-Coronavirus levels. The Mayor also revealed that additional data analysis showed that if those taking public transport were to instead choose to drive their own vehicle, the levels of car traffic could double, resulting in overly congested and unusable roads throughout London. If the changes to the charge do take the correct action, London could see the amount of traffic on it's roads fall by at least a third, with nitrogen oxide (NOx) emissions being cut by 11%.
The temporary changes aim to reduce the number of vehicles on the roads within the City of London and, as a result, allow residents to opt to travel by bike or on foot. The Government also aim to have bus networks running with fewer passengers in an aim to create a reliable service for those making essential journeys.
However, as the fears for increased levels of pollution rise, so do the fears for the lack of obedience to the new social distancing rules, as Khan's new plans could result in busier streets with an increasing number of walkers and cyclists and overcrowded underground services.
It has also been confirmed that the Mayor of London is extending the Congestion Charge reimbursement schemes for those on the front line, or those who are considered as vulnerable. These new arrangements include:
An expanded NHS patient reimbursement scheme for people considered to be vulnerable to Coronavirus
A new reimbursement arrangement for any local authorities or charities that operate within the zone and are offering vital support or services in response to the pandemic.
The changes to the charge will impact all vehicles which do not meet the Euro 6 Standards and should be considered when using your own car or rented vehicle.
If you need any further information on the temporary changes to the Congestion Charge, visit the TFL website or get in touch with us at Pace Van Hire by calling 020 7277 9853 where we can advise and assist in lines with the current regulations.