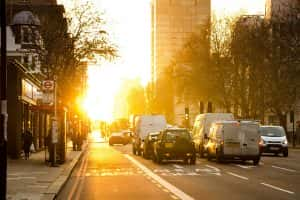 As of 13th September 2020, TfL set out an extension of bus lane hours on London's busiest roads. This change has resulted in a selection of lanes throughout the City operating for 24-hours a day as part of an aim to make bus journey times more reliable throughout the day for commuters during the recovery from the pandemic.
This change affects most road users, excluding cyclists, motorcyclists and taxis. In an effort to get additional commuters to travel safely on socially distanced modes of transport, the TfL have announced that any vehicle using the dedicated bus lanes outside of those excluded from the rule, are to be fined up to £130. This change is part of a trial that will last up to 18 months.
Further exclusions from the rule are that disabled parking bays, blue badge facilities and the majority of loading bays will remain retained throughout the trial, allowing vans and lorries the ability to load and unload on the roadsides in the permitting bays.
The Director of Bus Operations at TfL, Claire Mann, has said "This pandemic has changed the way we all live, work and travel. For that reason, we need to adapt our network, be flexible and continue to help people travel safely and reliably as London gets back on its feet."
All London bus lanes that have been affected as a part of this change have had new and clear signage created. These include a series of lanes in the following locations throughout these boroughs:
Bromley
Camden
City of London
Croydon
Enfield
Greenwich
Hackney
Haringey
Hounslow
Islington
Kensington & Chelsea
Lambeth
Lewisham
Merton
Southwark
Sutton
Tower Hamlets
Wandsworth
Westminster
Charges apply to the driver of any vehicle not exempt from the regulation changes and it is important to note that if you are operating a rental vehicle, you are liable to paying this cost as the named driver at the time of the fine. You may also receive an administration fee on top of the TfL's charge.
If you require any further information on the changes to London's busiest bus lane hours or for any questions or enquiries on our range of vans available for renting, get in touch with a member of our Pace Van Hire team by calling 020 7277 9853 and we will be happy to advise and assist you wherever possible.